Seamless Wayfinding for UNMC's Nebraska Medicine's Village Pointe Clinic: A Case Study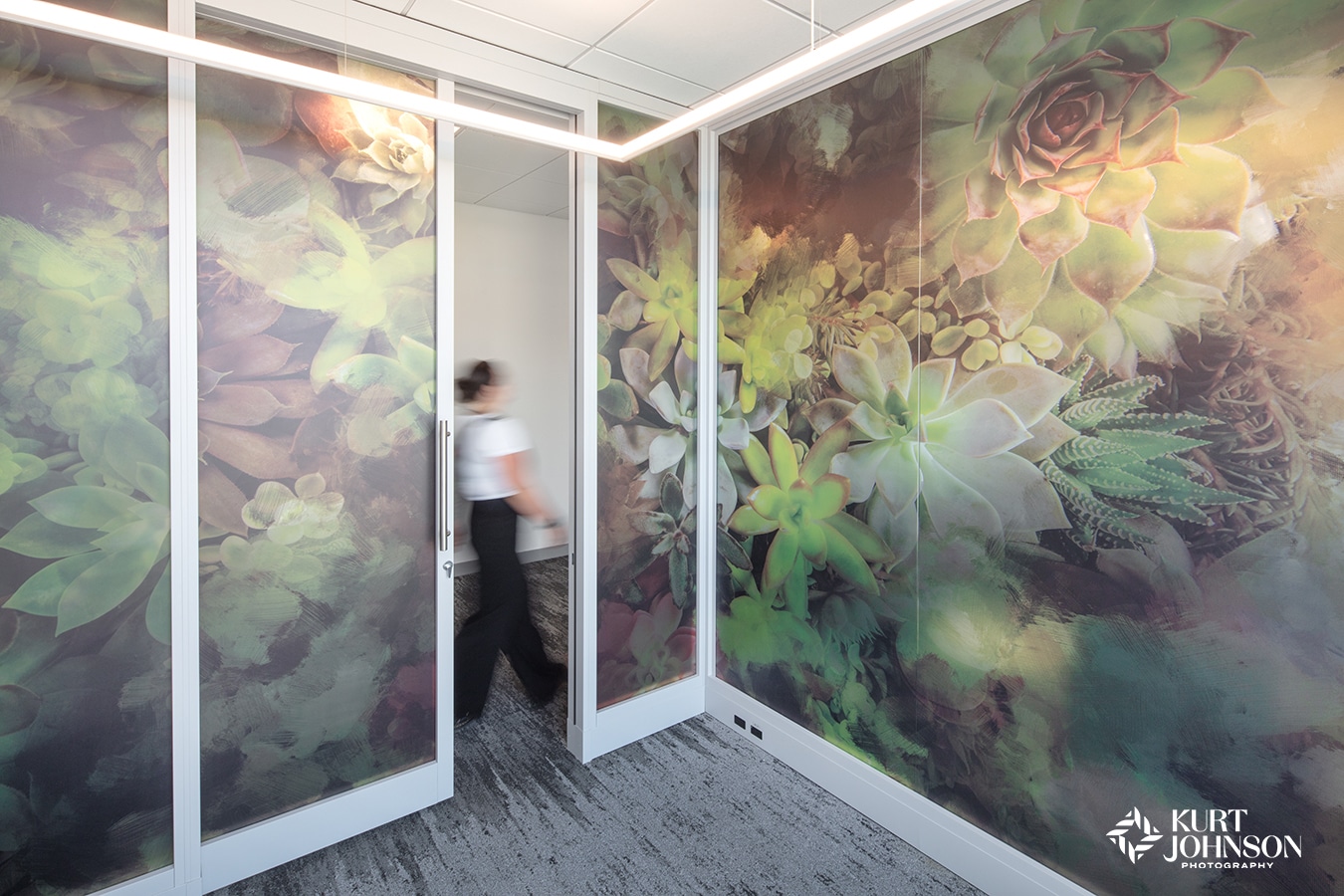 In the same way, "no man is an island," no one person or business is 100% responsible for the creation of a successful healthcare facility.  And that's because the most innovative designs that lead to the best wayfinding solutions are collaborative. 
There are lots of moving parts involved in creating healthcare environments.
Architects, designers, furniture and substrate providers, healthcare staff, artists, and engineers are just a few of those elements.  And when all those people and organizations come together with passion, flexibility, good intentions, and patient care in mind, the result is the type of seamless wayfinding on display in UNMC's Nebraska Medicine's Village Pointe Clinic in Omaha, Nebraska.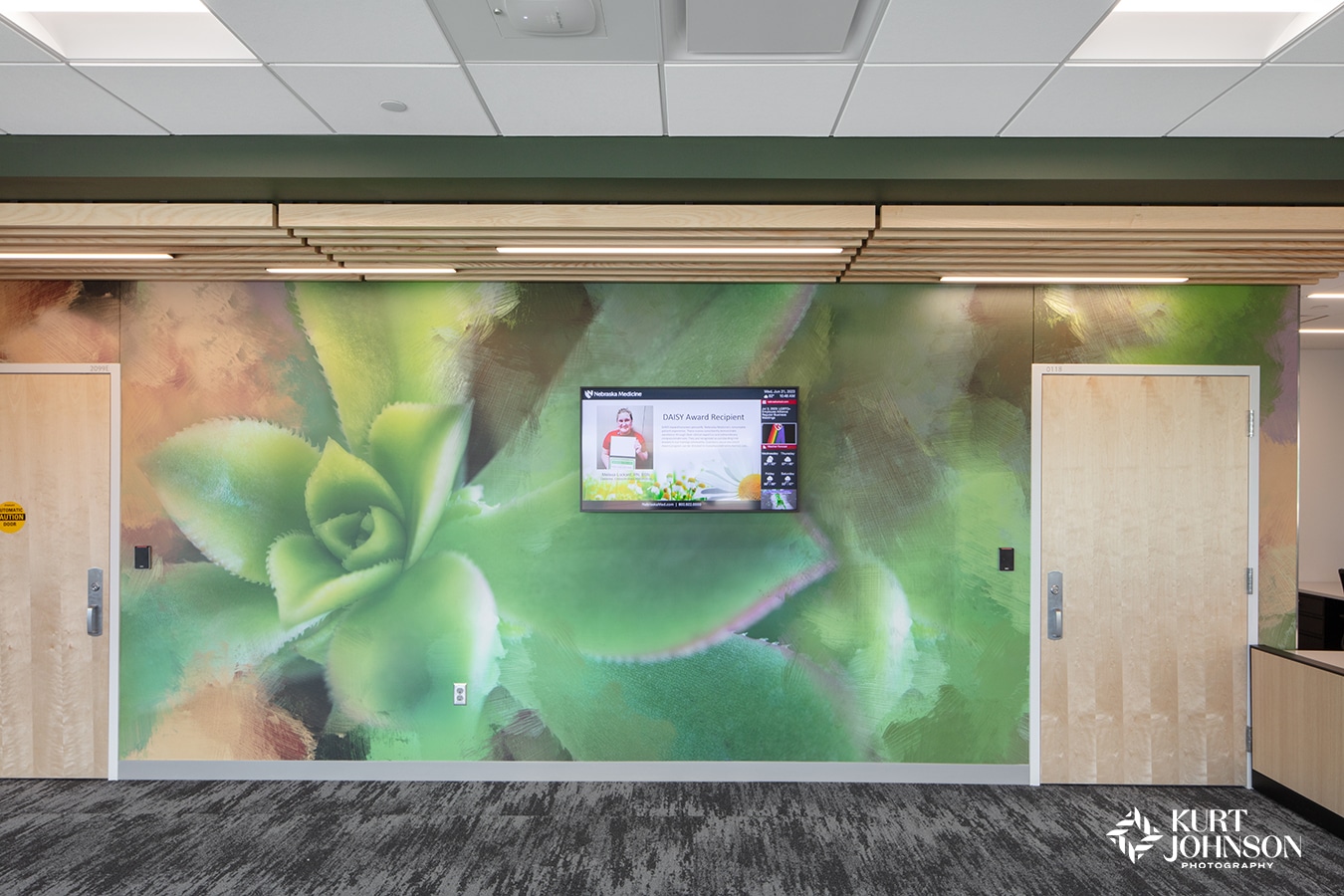 The intention behind this new facility was to expand outpatient services and specialty clinics for NE Medicine.  They had exceeded their existing space and needed a simple, cohesive design to provide flexibility as the needs of the community changed.
We approached Leo A Daly project manager Alison Topp, while she was working as an architect for NE Med, for feedback on our newest line of images called Impressionism.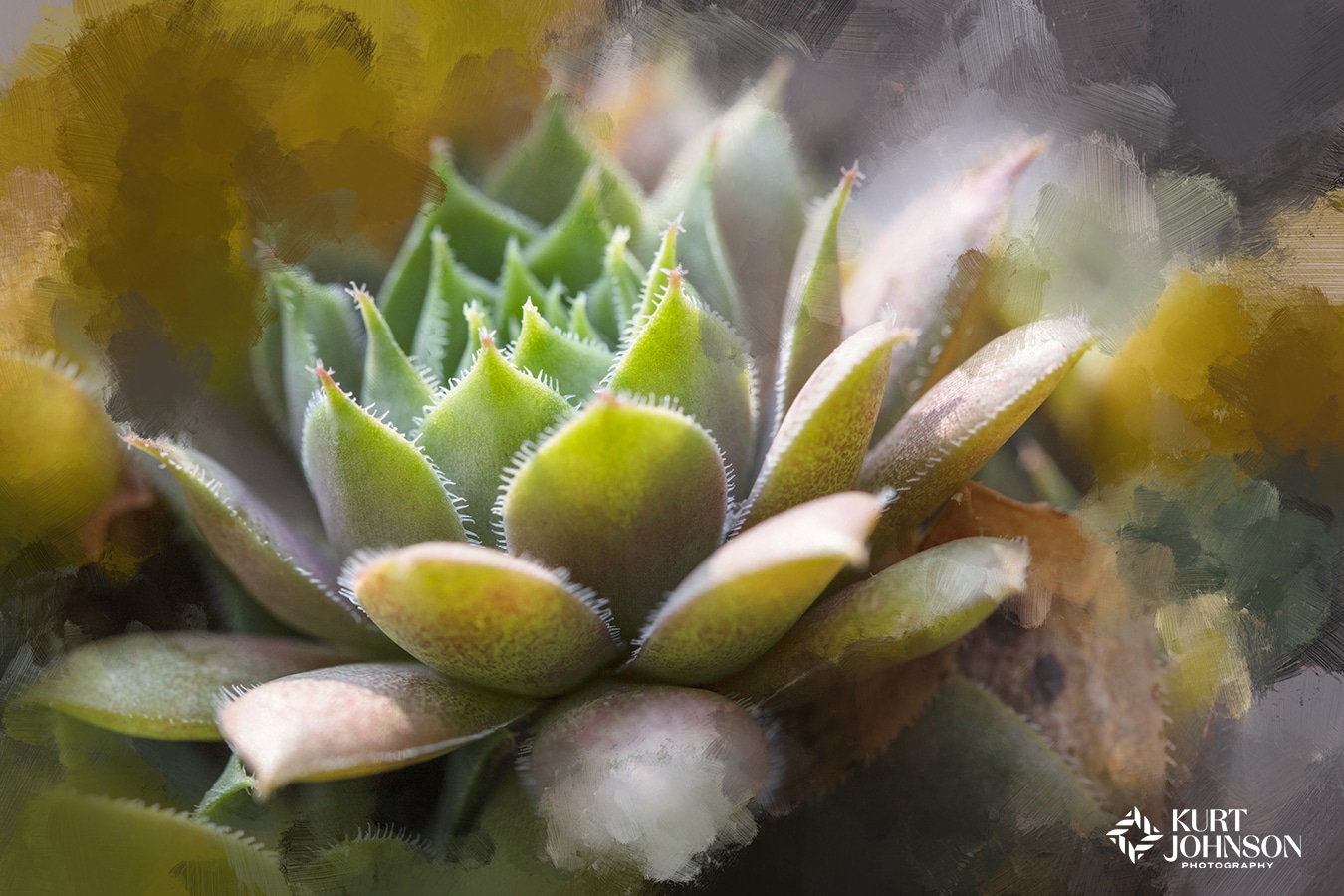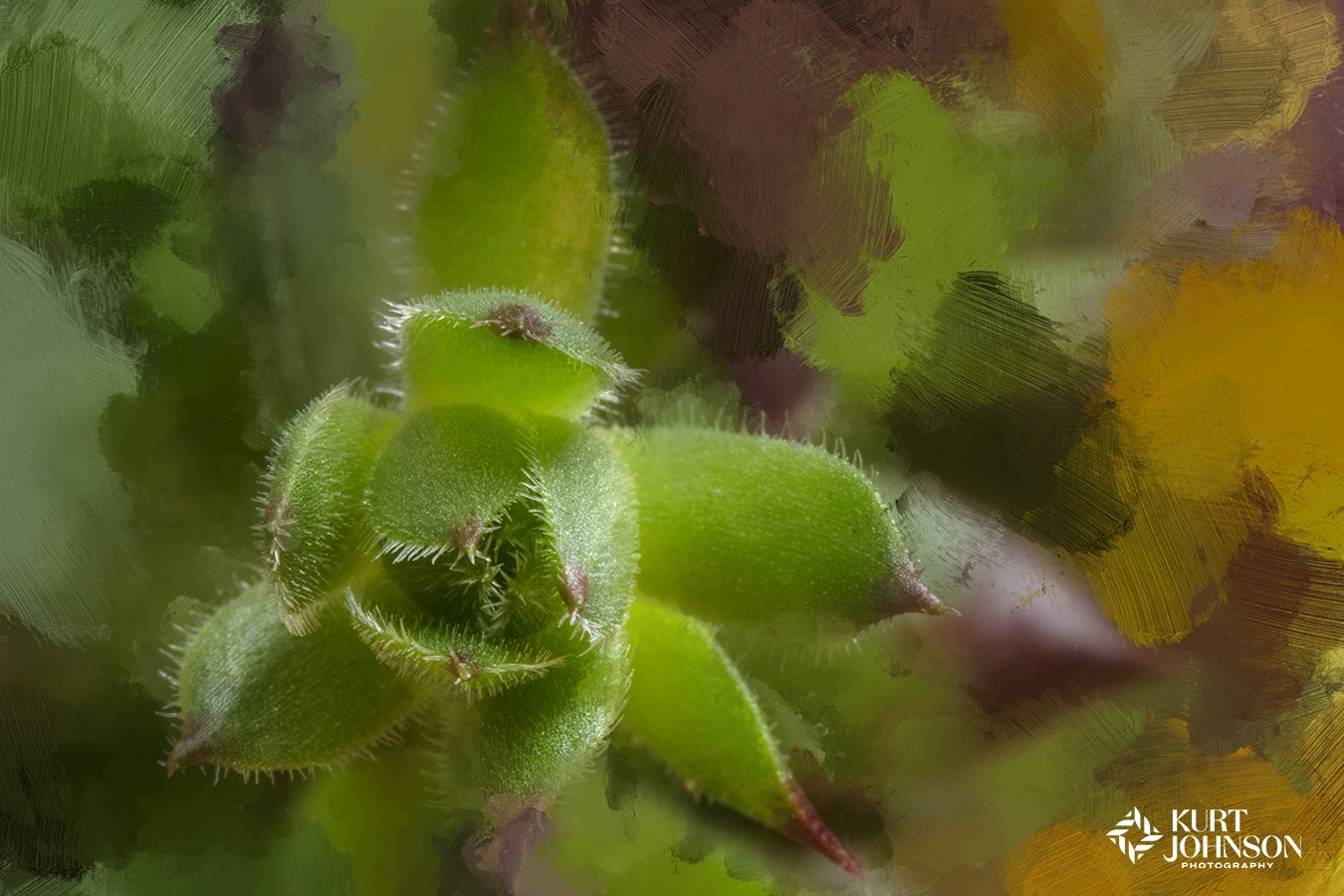 Our Impressionism images blur the lines between photography and fine art. 
The process involves Kurt's nature photographs being artistically enhanced by Jerred Zegelis, part of KJP's creative team.
The result is a finished piece of nature art that looks more like a painting than a photograph and enhances the beauty of its subject – inspiring an environment that is truly a work of art.
When we first met with Topp, she was in the beginning stages of designing the Village Pointe clinic, and she was looking for artwork that was distinct enough to differentiate areas of the facility, while also being part of a cohesive design plan.
She emphasized how wayfinding would be an essential part of the project.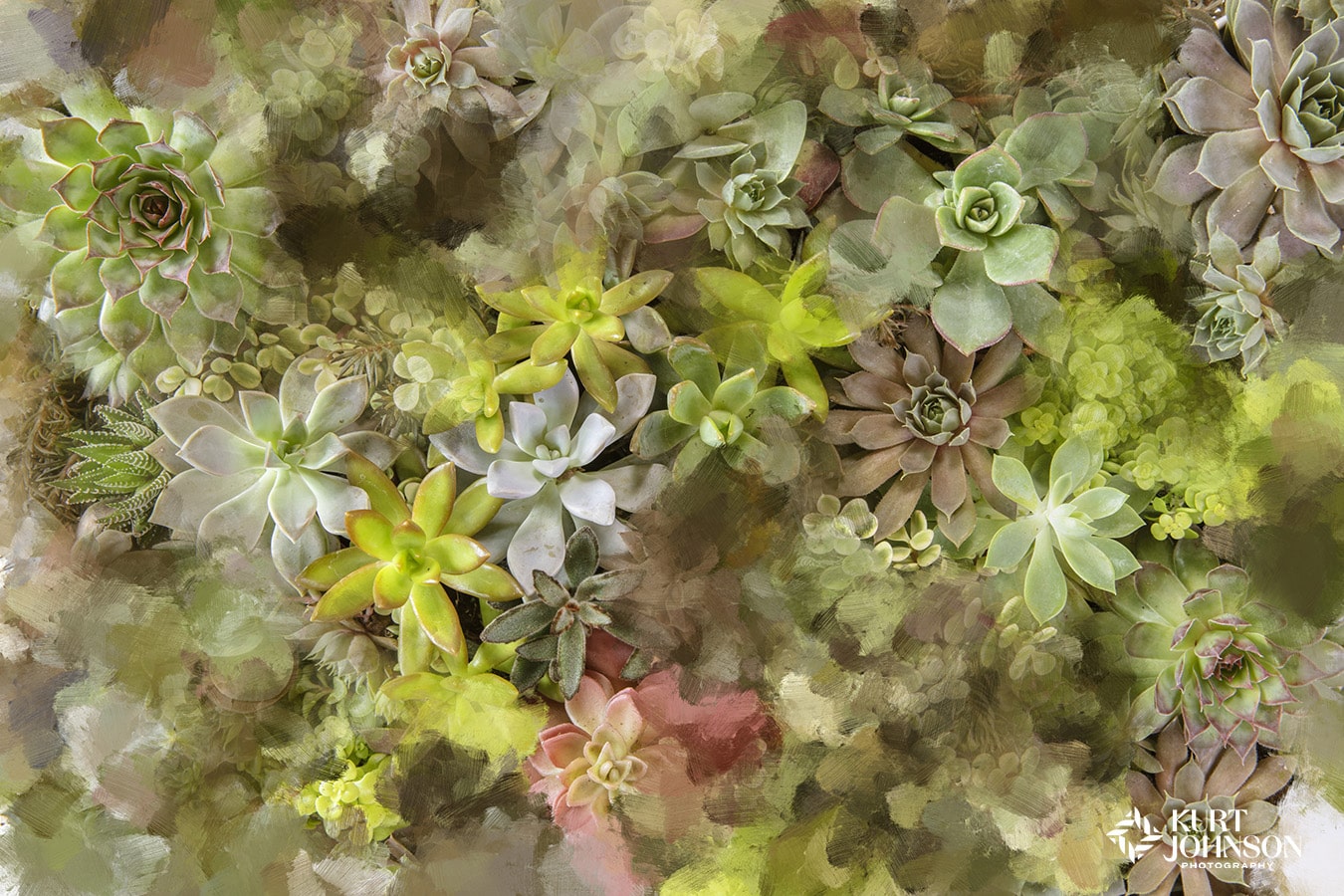 The Leo A Daly team and NE Med loved the unique qualities of KJP's Impressionism images.  They quickly decided the images were just what they'd been looking for to create seamless wayfinding for NE Med.
And because both Leo A Daly and NE Med understood the importance of the patient experience, art was added as part of the construction package from the very beginning.
Many facilities add art much later in the process, according to Topp.  Even after construction is completed.  But it can be hard to establish effective, seamless wayfinding when all the other features of the environment have already been determined.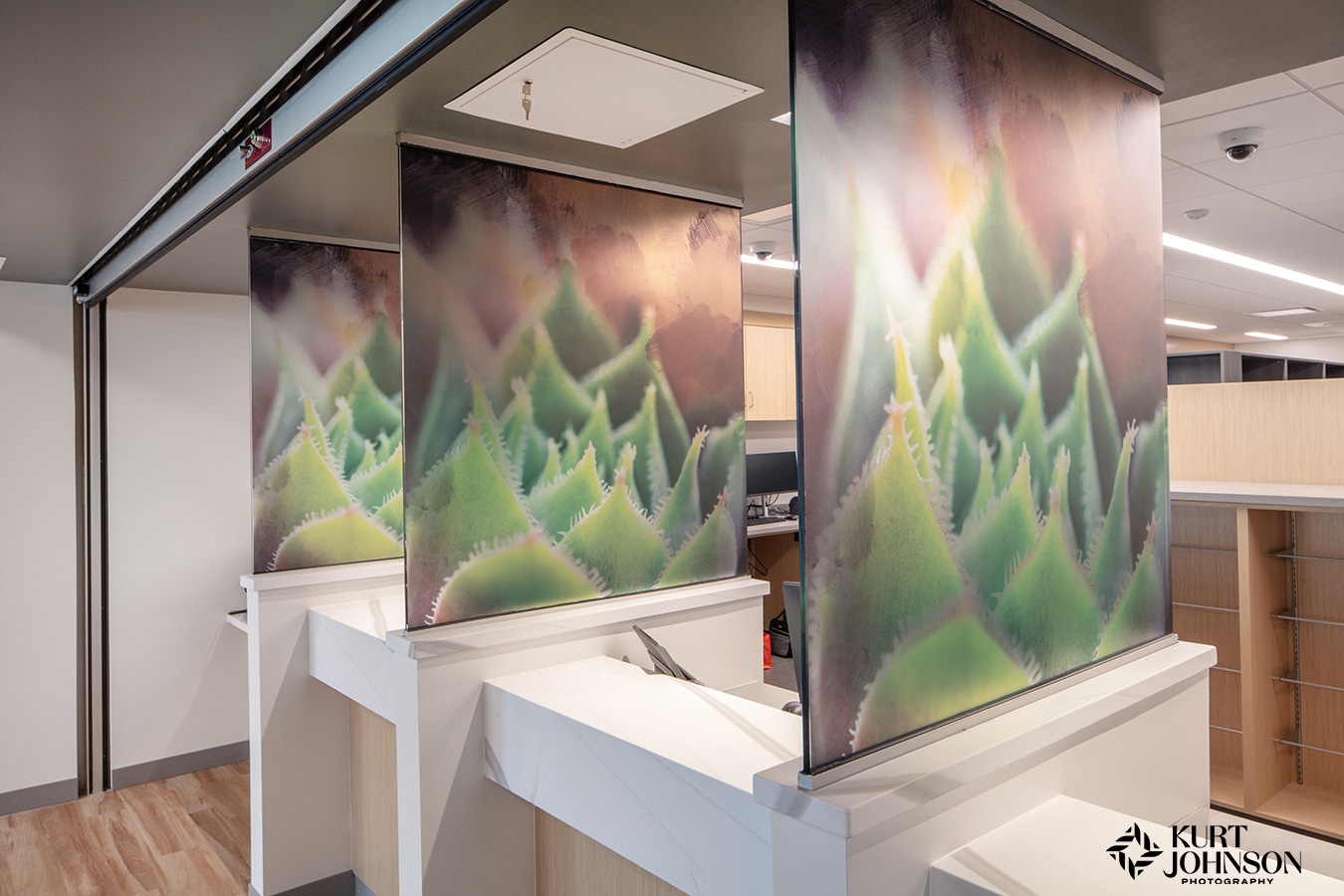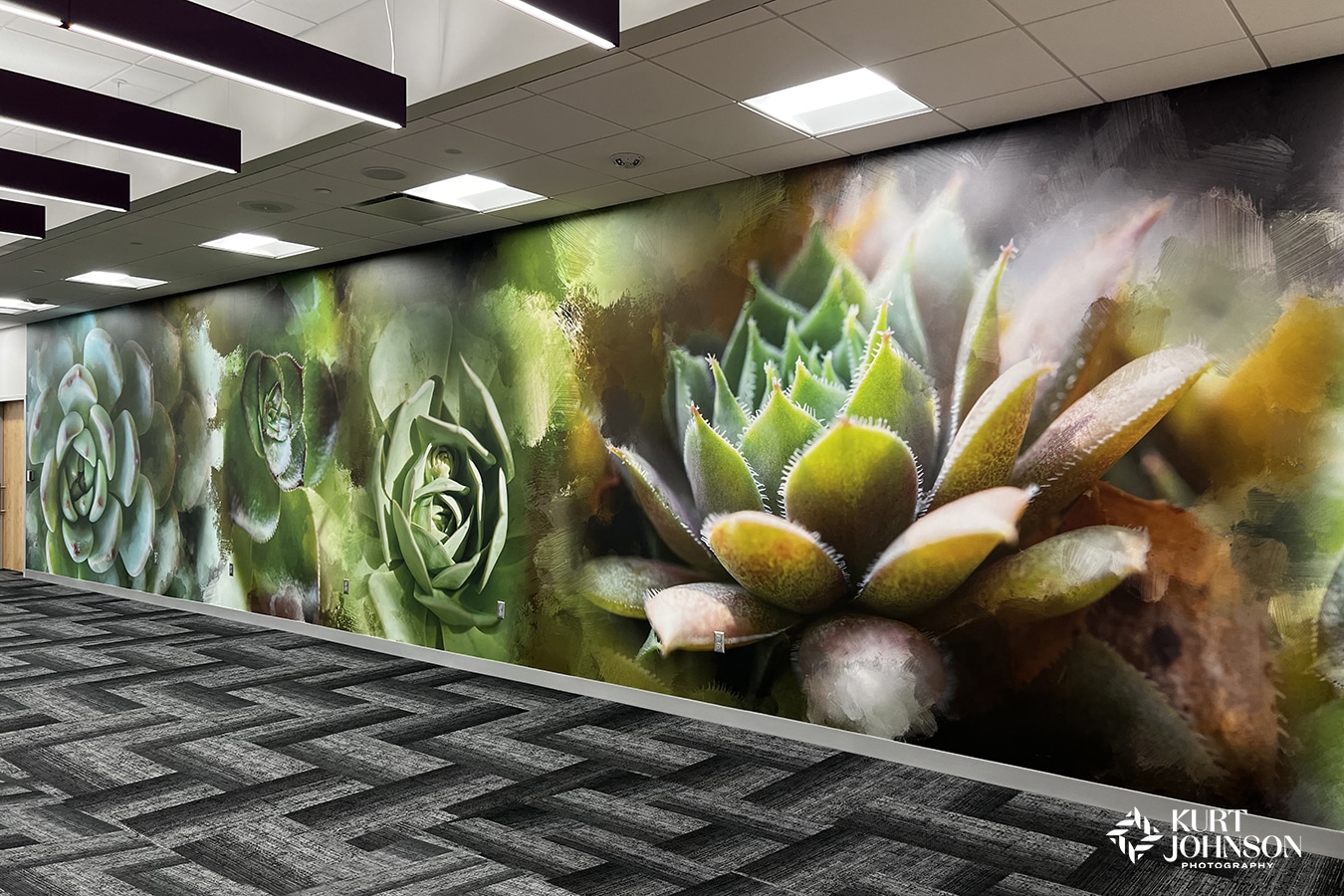 The Impressionism images were used to
simplify navigation
incorporate biophilic design
provide positive distractions
tie all areas of the clinic together
engage patients and staff
This is the first project incorporating our Impressionism images, which are part of our newest Innovations series.
Using colors and graphics to make navigation intuitive, especially for repeat patients, led to seamless wayfinding in the clinic.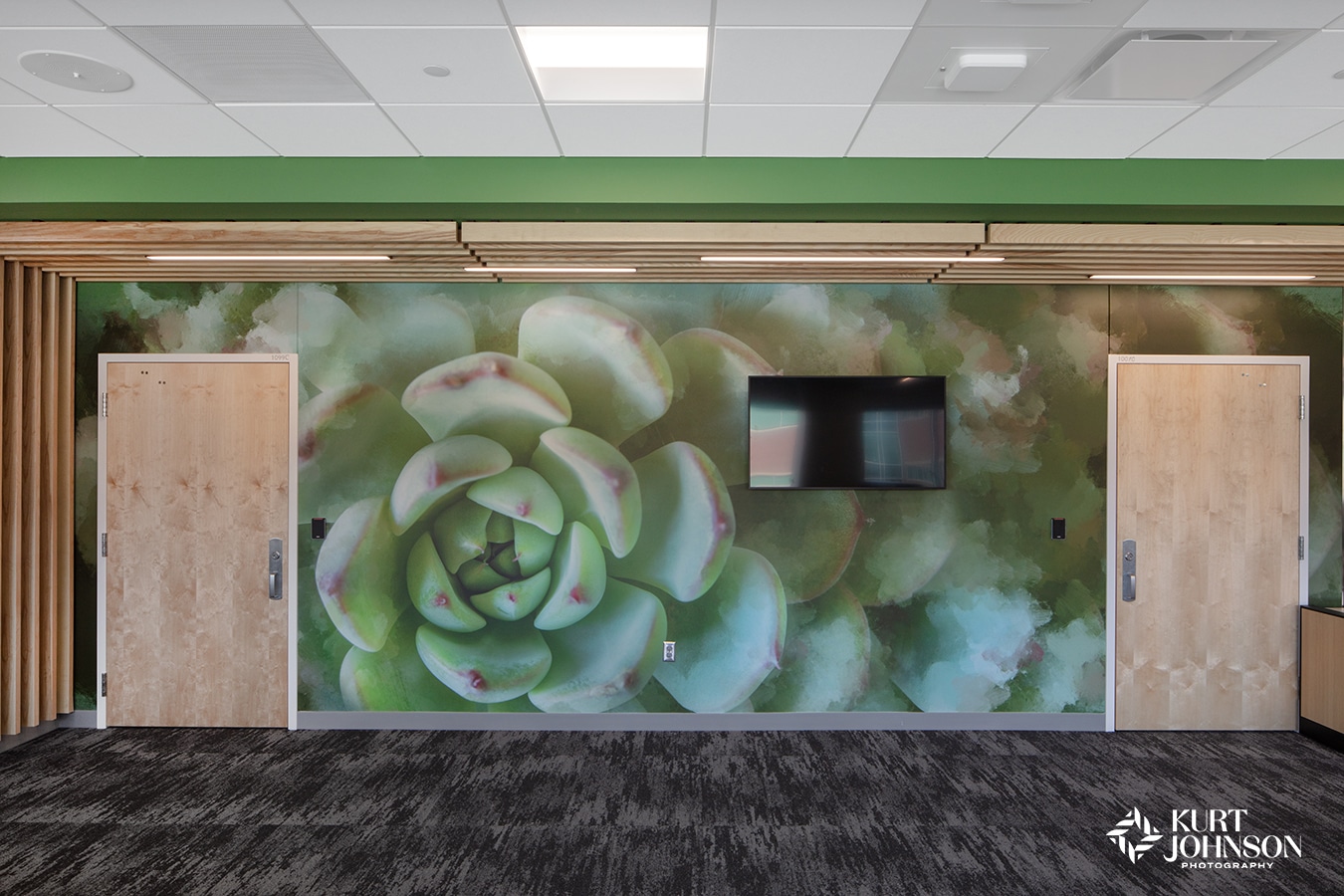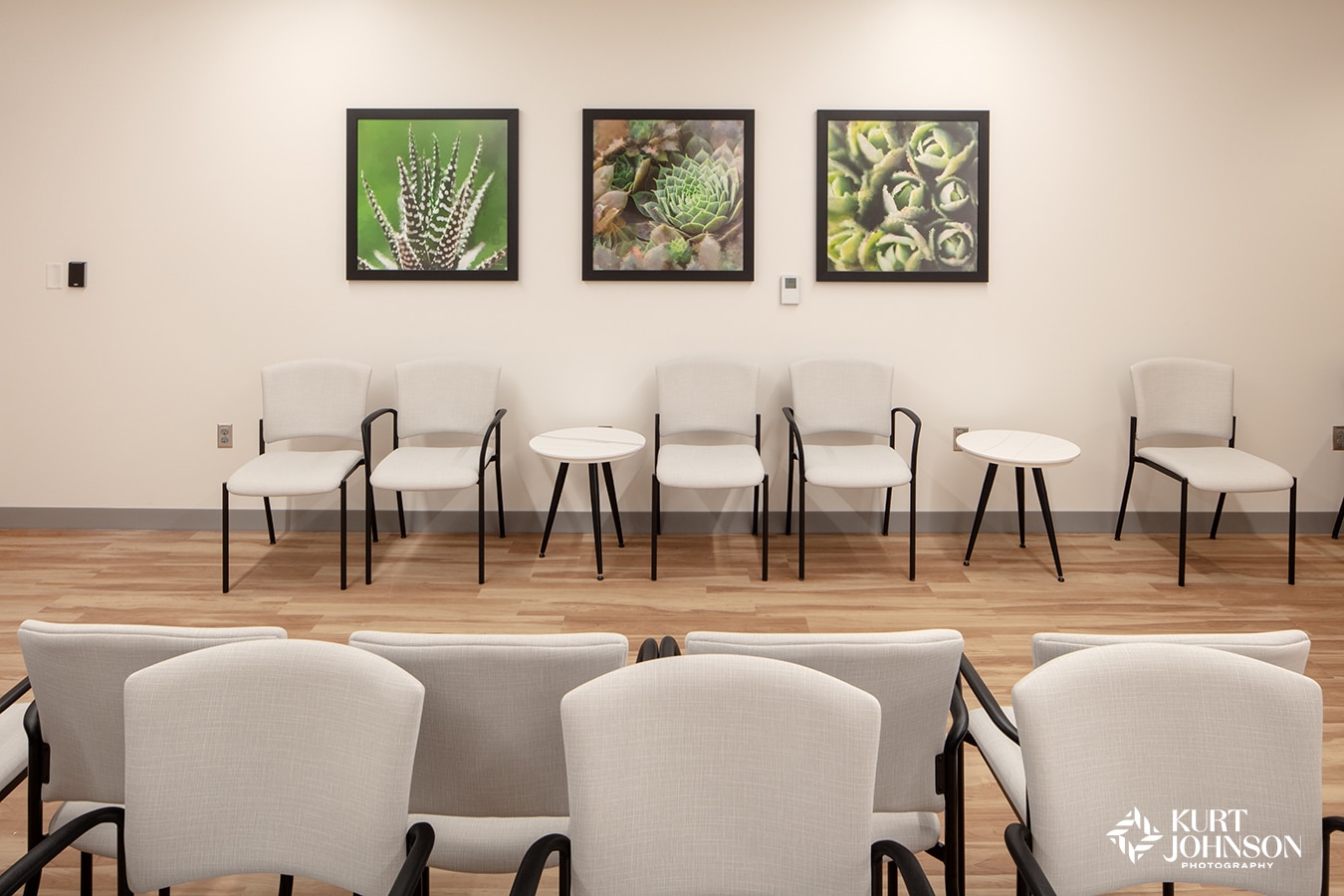 The Leo A Daly team integrated Impressionism images into wall coverings, film on glass, and framed art.  They chose a selection of succulent images in varying shades of green to distinguish different areas of the facility, which tied all of the artwork together.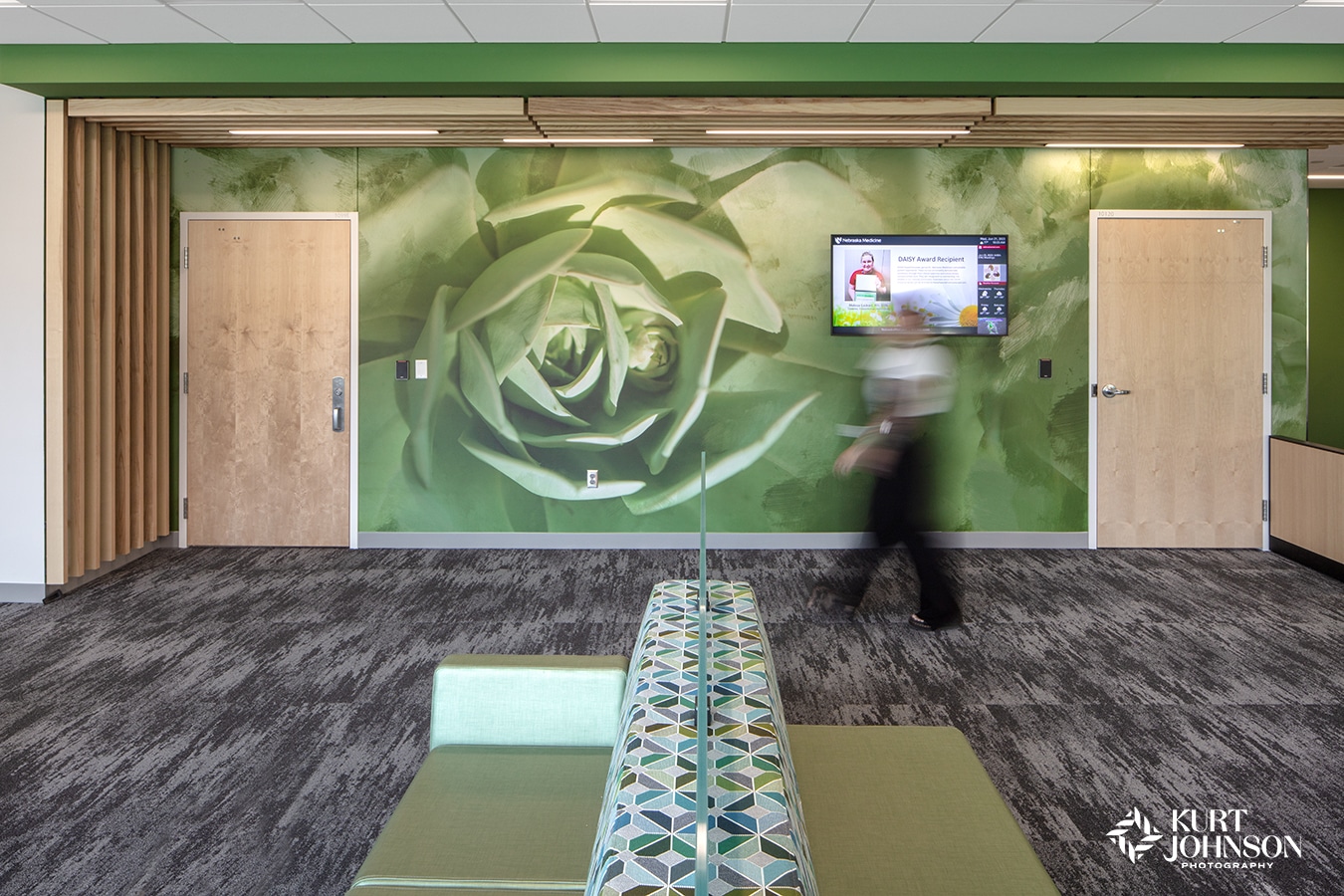 The project included 125 framed art pieces and 15 large scale pieces including wallcoverings by Koroseal and film on glass by Look Architectural Coatings.  And the artwork was beautifully complimented by furniture provided by Sheppard's Business Interiors.
By using the same soft color palette and artistic brushstrokes of Impressionism,  the design throughout the clinic was consistent and seamless leading to lots of "wayfinding moments," as Topp called them.
And both Topp and Leo Daly designer, Jennifer Ankerson said working with so many great industry partners made the process fun and successful.
"The goal is to make it look like one hand did the whole thing, even though hundreds of people worked on the space," Ankerson said.  She described Kurt's Impressionism images as "the "beacon in the space," because they inspired so many touchpoints throughout the facility including the wood choice and paint colors.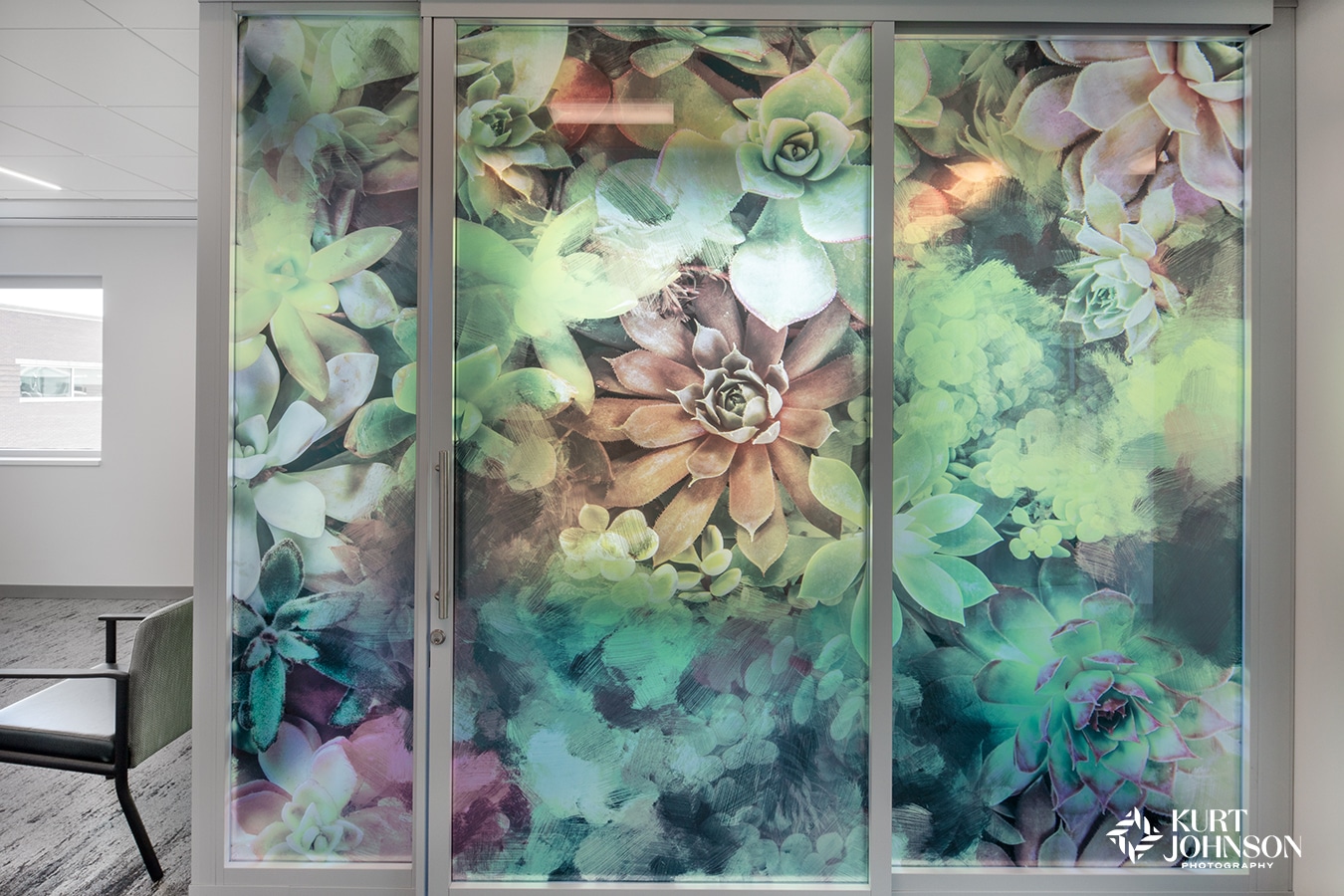 Nebraska Medicine – Village Pointe Health Center was the first Nebraska Medicine project to integrate LEO A DALY's new sustainability standards, including "Enhancing the human experience with interiors designed for flexibility, connection, and wellbeing."
Topp and Ankerson told us how open, inviting stairways flooded with natural light and views of nature made it comfortable and enjoyable for people to take the stairs.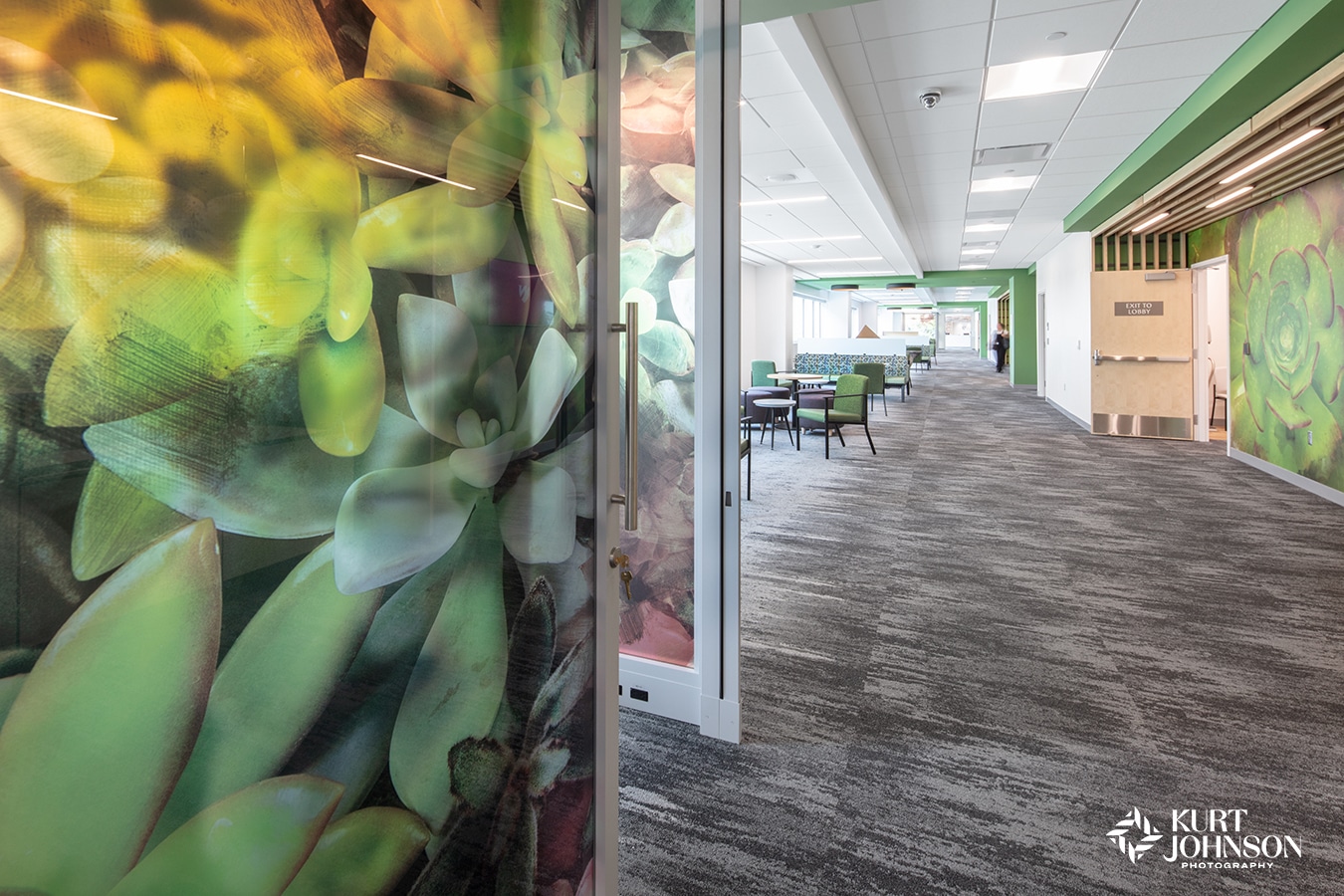 Incorporating evidence-based design techniques, like Kurt's Impressionism images, laid the foundation for a soothing space that helps patients and the entire care team, navigate and heal.
And Eric Friesen, Facilities Project Manager for NE Medicine, told us he's received nothing but compliments on this new space.
We love working with partners as passionate about the importance of nature and healing as we are, and it shows in this beautiful new health center!