Meet the Kurt Johnson Photography Team: Fully Caffeinated, Enthusiastic Problem-Solvers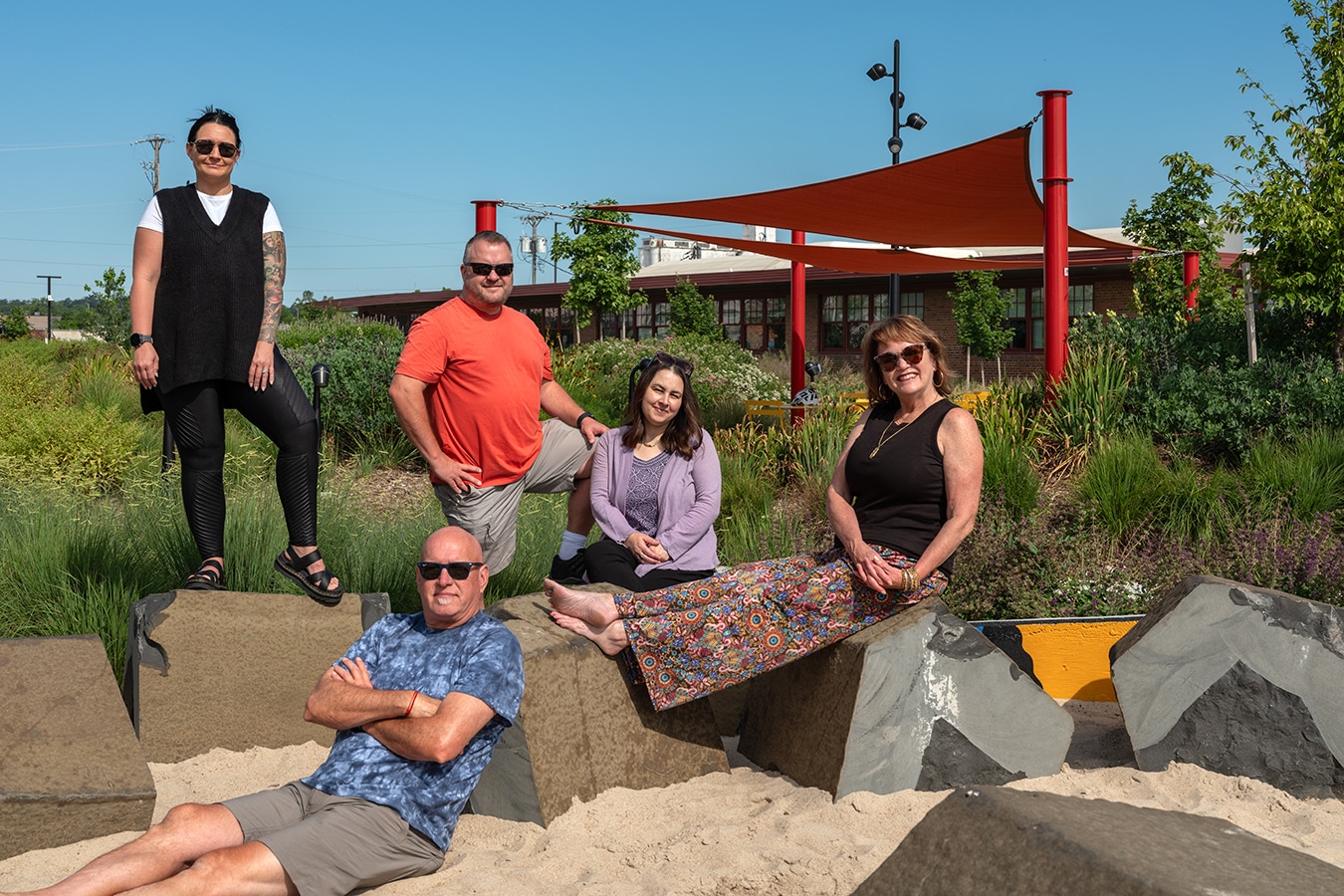 Kurt Johnson Photography is centered around Kurt Johnson's nature images, but KJP is far from a solo venture.  KJP is made up of a talented team of creatives dedicated to bringing the healing power of nature to healthcare facilities.
From graphic art, photo editing, and retouching to writing, problem-solving, and visual innovations, our team has all the bases covered when it comes to providing healing artwork for wellness environments that improves outcomes, solves problems, and gets people talking.
Kurt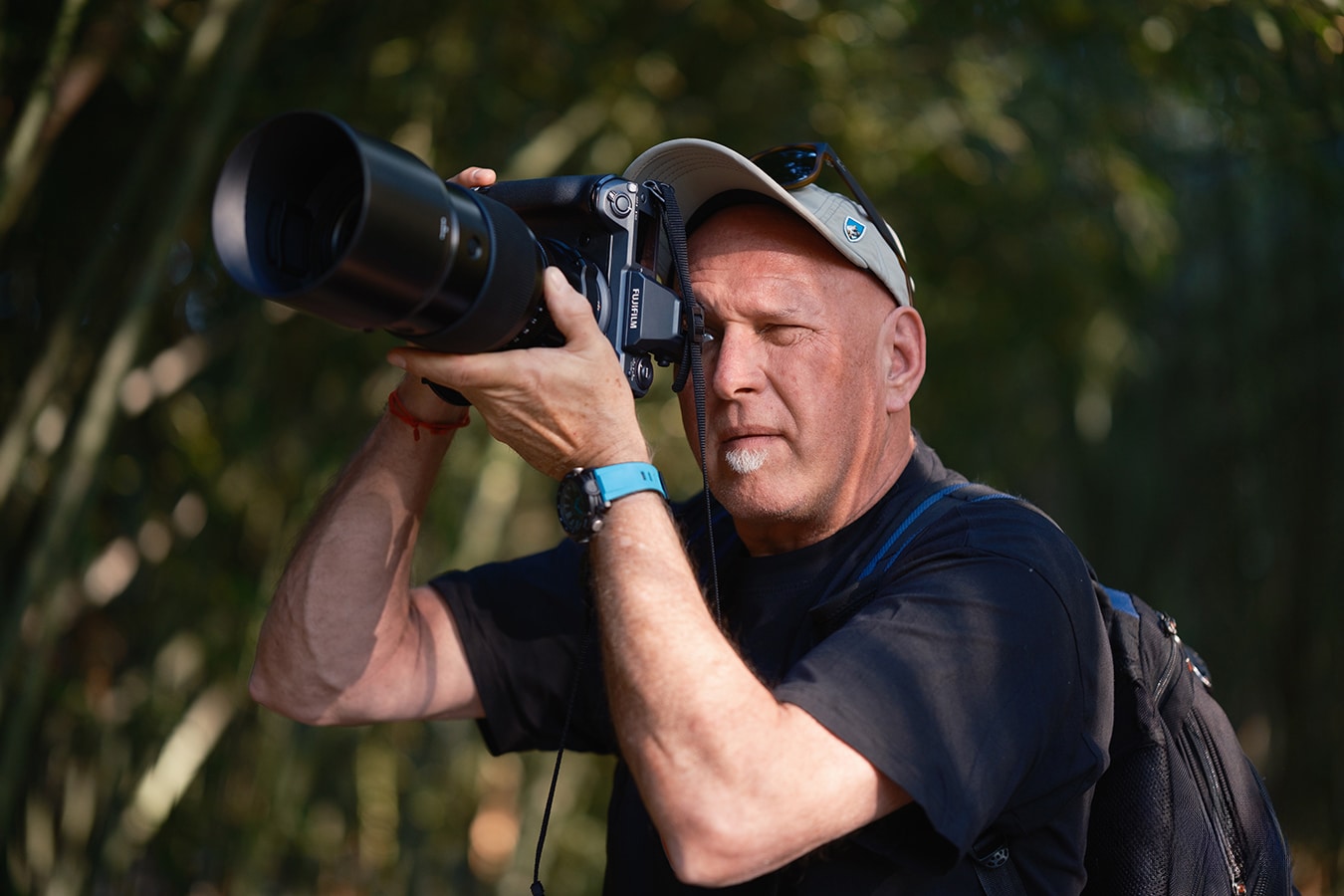 It all begins with Kurt.  Kurt is the heartbeat of Kurt Johnson Photography.  His drive to create gets him out of bed every morning and his ability to see and capture nature in uniquely beautiful ways is what inspires the rest of the team.
Kurt uses his artistic skills to capture breathtaking landscapes and botanicals and tell the stories of communities through the natural world.  He's a bit of a gearhead, always keeping up with the newest equipment and seeking to push the boundaries of what's possible with the images he takes.
He's well-researched in biophilic design and has seen firsthand how soothing nature images can transform sterile environments into spaces that heal.
"Seeing the power of bringing nature indoors gives me purpose and hope.  If I can ease the pain of someone going through a difficult time, whether it's a patient or part of the care team, it's worth it."

-Kurt Johnson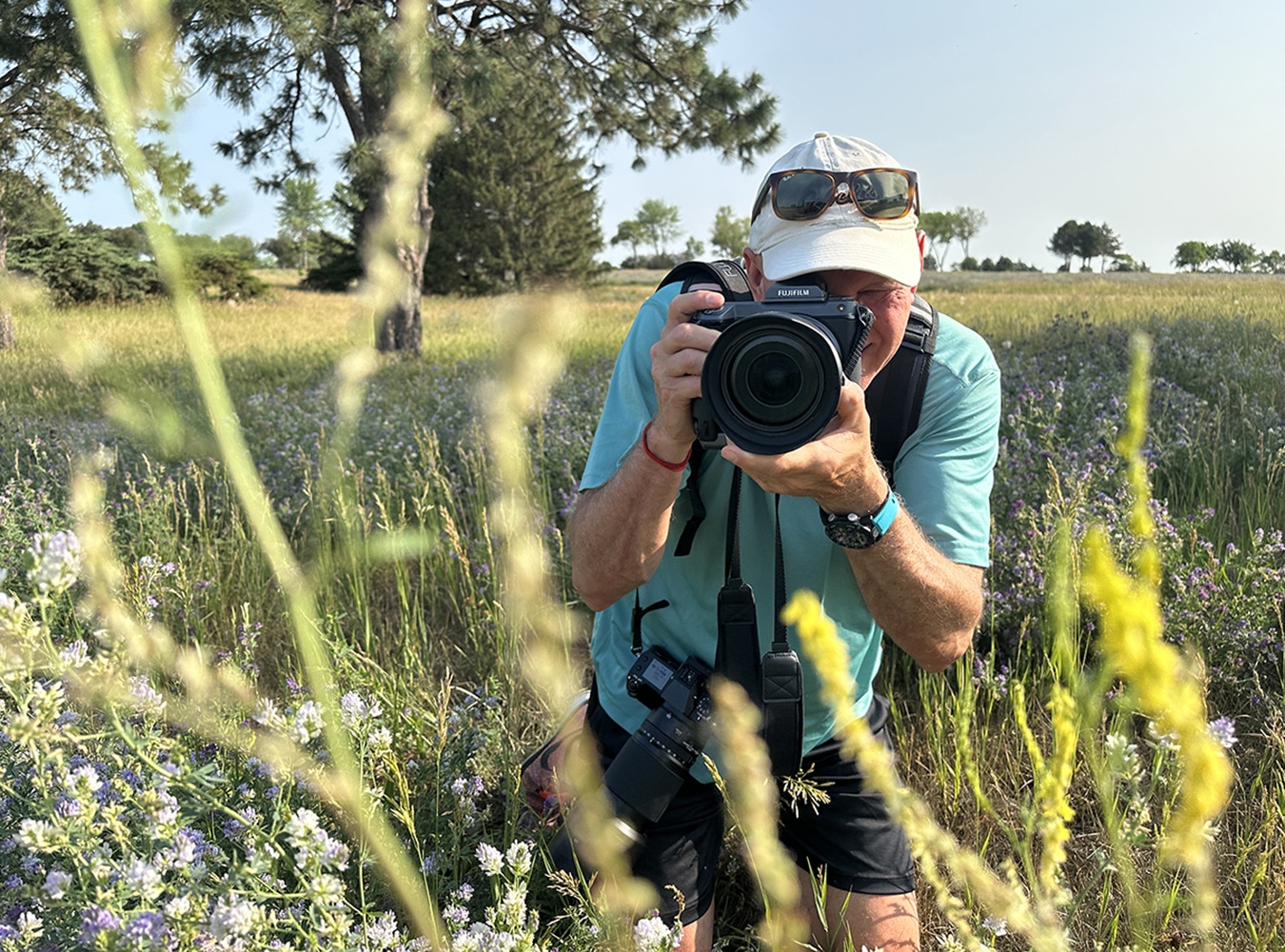 Kurt is motivated by the positive feedback he gets from patients and staff who find comfort in the images he takes.  He loves being able to provide positive distractions to people who need them the most.
Carolyn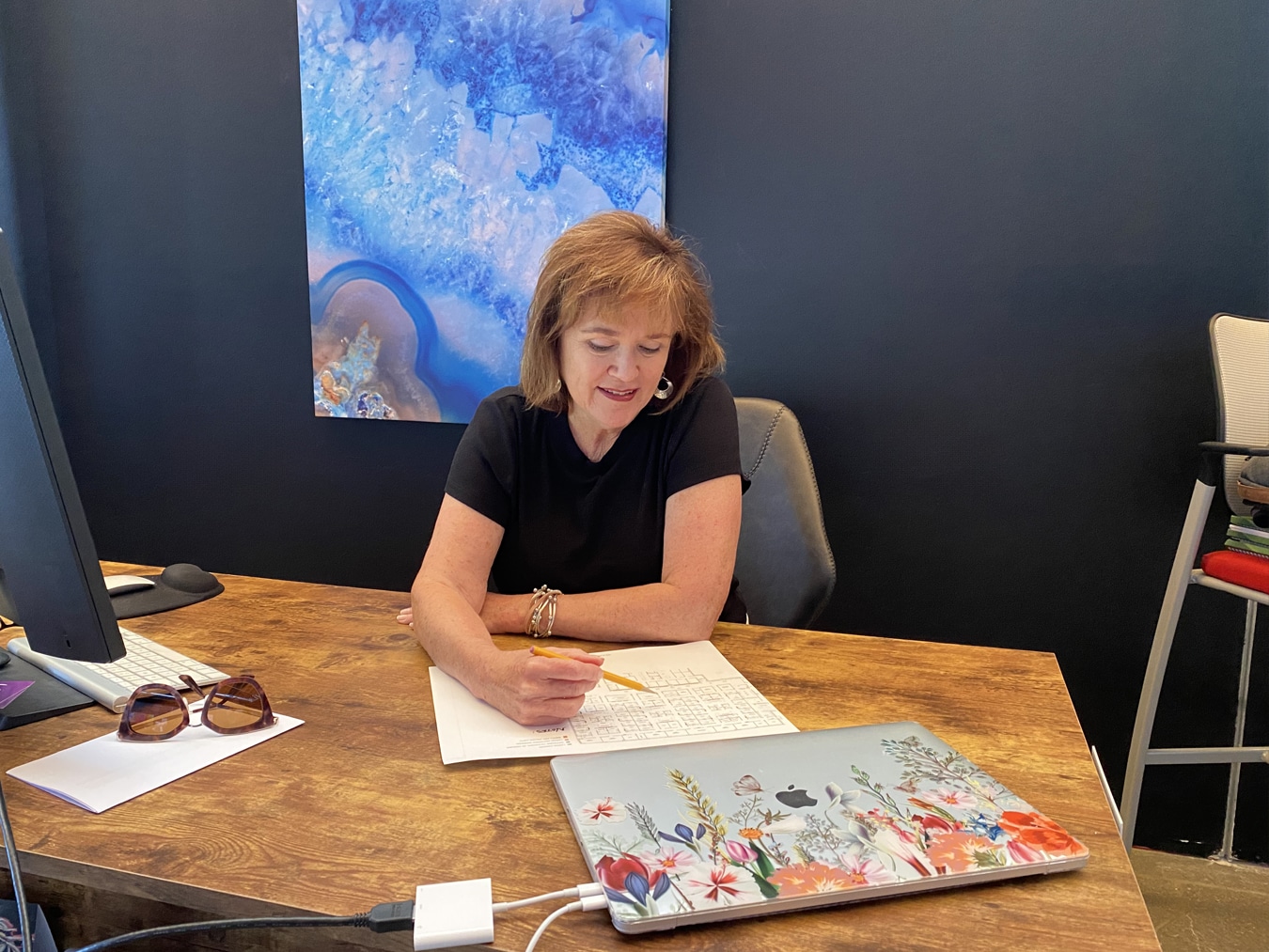 Carolyn is KJP's visionary.  Her gift is looking at the big picture of how Kurt's images can have the most impact in healing environments and making a plan to get there.  She's energized by others and loves meeting with clients, helping with art placement, and coming up with creative solutions to bring nature indoors.
Carolyn loves digging into marketing strategies and sales plans and is a big believer in the power of gathering.  She spearheads many KJP brainstorming sessions where the team bounces ideas off one another to see what sticks.  Lots of new ideas have blossomed as a result of these sessions, including KJP's newest product line, Innovations.
Her positive energy and love of people are the perfect fit for her role as head of sales and marketing.  She's also the office administrator, keeping everyone on track and pinpointing where the team should focus their energy next.
Carolyn's organizational skills keep the team moving forward (you'll rarely find her far from her Franklin planner).  And even though she's the only member of the team without a photography background, her corporate experience is vital at KJP, giving her valuable insights when it comes to handling business matters.
"My goal is to make our clients' lives easier.  From the first meeting up until installation, we're there every step of the way providing support, problem-solving, and getting things done quickly so you can get back to the important work of healing."

– Carolyn Johnson
Her passions include fostering client relationships, art placement, and designing flower arrangements and studio settings for Kurt to photograph.  And even though KJP is a team effort, Carolyn owns a majority of the business, making it a women-owned small business.
Tori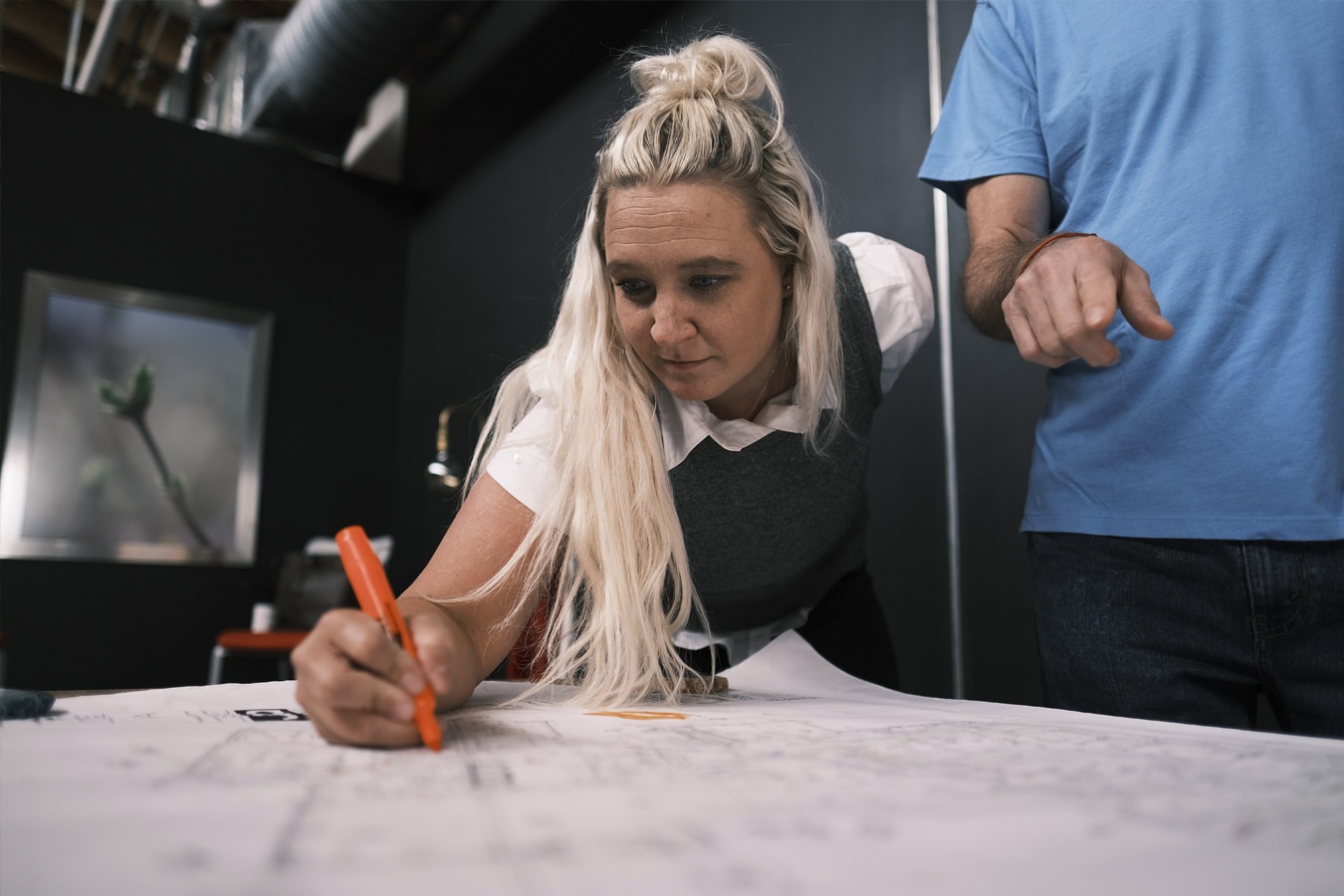 Tori is Kurt Johnson Photography's art director, specializing in project management and photo editing.  At KJP, she's known as the gatekeeper.
After Kurt shoots the images, Tori gets the SD cards directly from the camera, edits, organizes, and files every image, and then catalogs everything by subject matter and location.  Her mind is a map of Kurt's images, and she has an uncanny way of giving you the 4-digit code for many of the photos in Kurt's almost-one-million-image catalog.
As the art director, she does all the photo curating, which means she's responsible for getting images published on the website and building custom portfolios for clients. If you've ever worked on a project with KJP, you've worked with Tori; she's involved in every detail from art selection to final approval.
Her photo editing skills truly bring clients' visions to life.  Whether it's photo-stitching, mirroring, making color adjustments, editing images, creating vector graphics, or designing custom color slices, Tori uses her extensive knowledge and wicked technical skills to get clients what they need when they need it.
"I love that I get to do something different every day, but if I have the chance to come up with an amazing creative solution to a client's problem, that's my daily goal, that and to see if I can drink more coffee than I did the day before."

– Tori Gerkin
You'll never find her without a cup of coffee nearby, which might explain her crazy fast turnaround times.  Tori sizes, color-corrects, and makes sure every photograph is print-ready and then delivers the images to our vendors for printing and installation. She also finalizes the art placement plan as a roadmap for our printer/framer and assists in many installations.
Tori is quick with solutions when problems arise and she has a habit of taking her laptop everywhere in case someone "needs something."  She loves bringing her dogs to the office and will not complete a project without the client being 100% satisfied.  If we could clone her, we would.
Jerred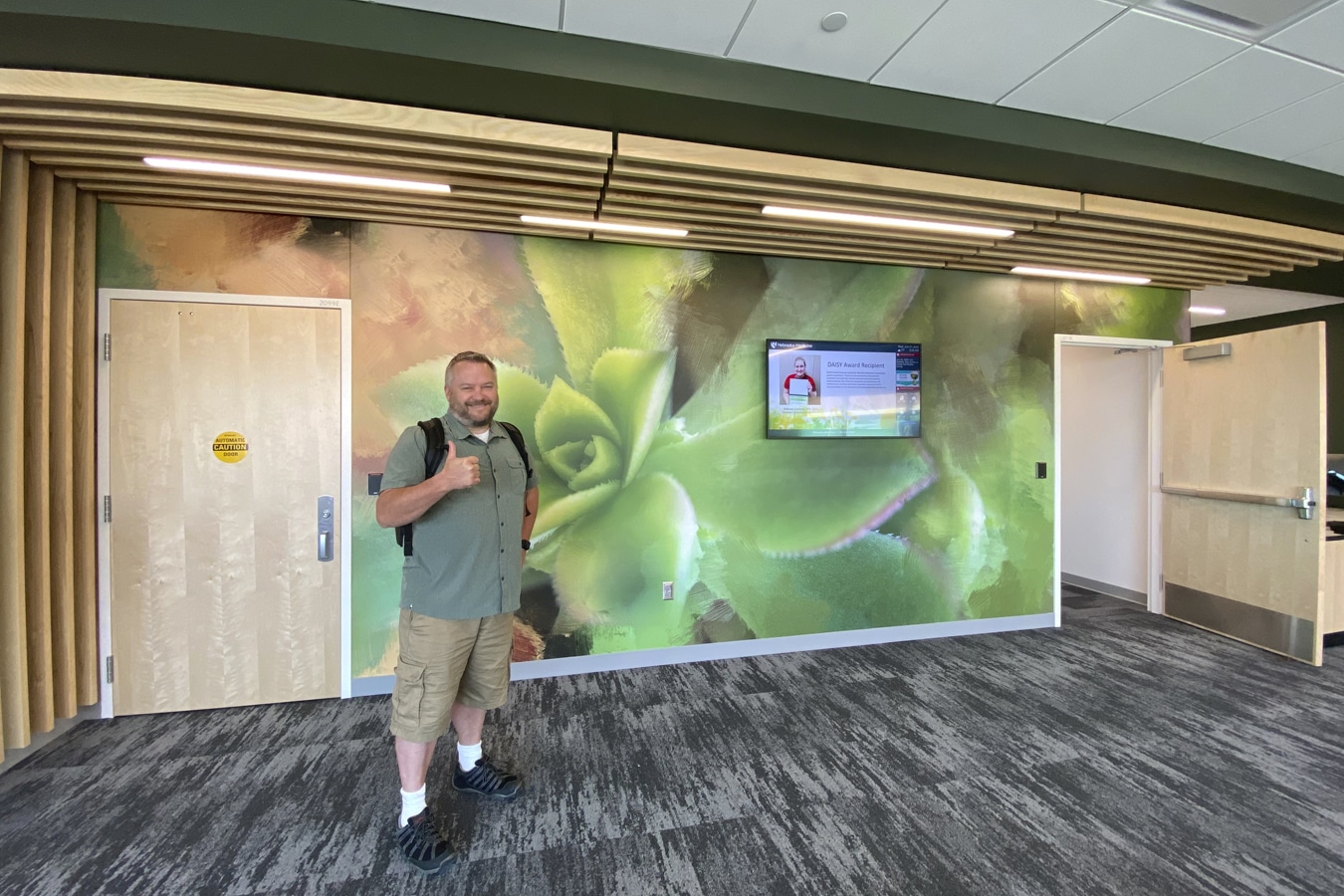 Jerred, a landscape and nature photographer, is KJP's special projects coordinator. His specialty is innovating.  He travels with Kurt on many photoshoots, taking nature images from his own unique perspective.  He also does a great job documenting Kurt on the road, in the studio, and of course, eating at all the local hot spots.
Jerred is in charge of project development, working with Kurt to develop cutting-edge art forms that innovate and inspire.  Jerred modifies Kurt's nature images, creating unique works of art that have been creating a lot of buzz with wellness environments and designers.  Jerred is the artist behind KJP's new Impressionism and Layers images.
"It's a lot of fun to be able to work on something that actually has impact with people and that's one of the great things about being with the Kurt Johnson team."

-Jerred Zegelis
No matter what we throw at him, Jerred has been able to exceed client expectations and reinvent the framework of what nature art can be.  He's constantly coming up with fresh ways to incorporate Kurt's nature art into wellness environments that need them the most.
Jerred's energy and enthusiasm are contagious.  He uses his artistic eye, technical skills, and passion to help people.  As an experienced photographer and former high school teacher for almost 20 years, Jerred can handle any situation.  If you give Jerred a problem, he'll give you a solution (okay, probably 5 solutions along with a really passionate email written at 2 AM about why it will work). He's an invaluable part of the KJP team.
Casey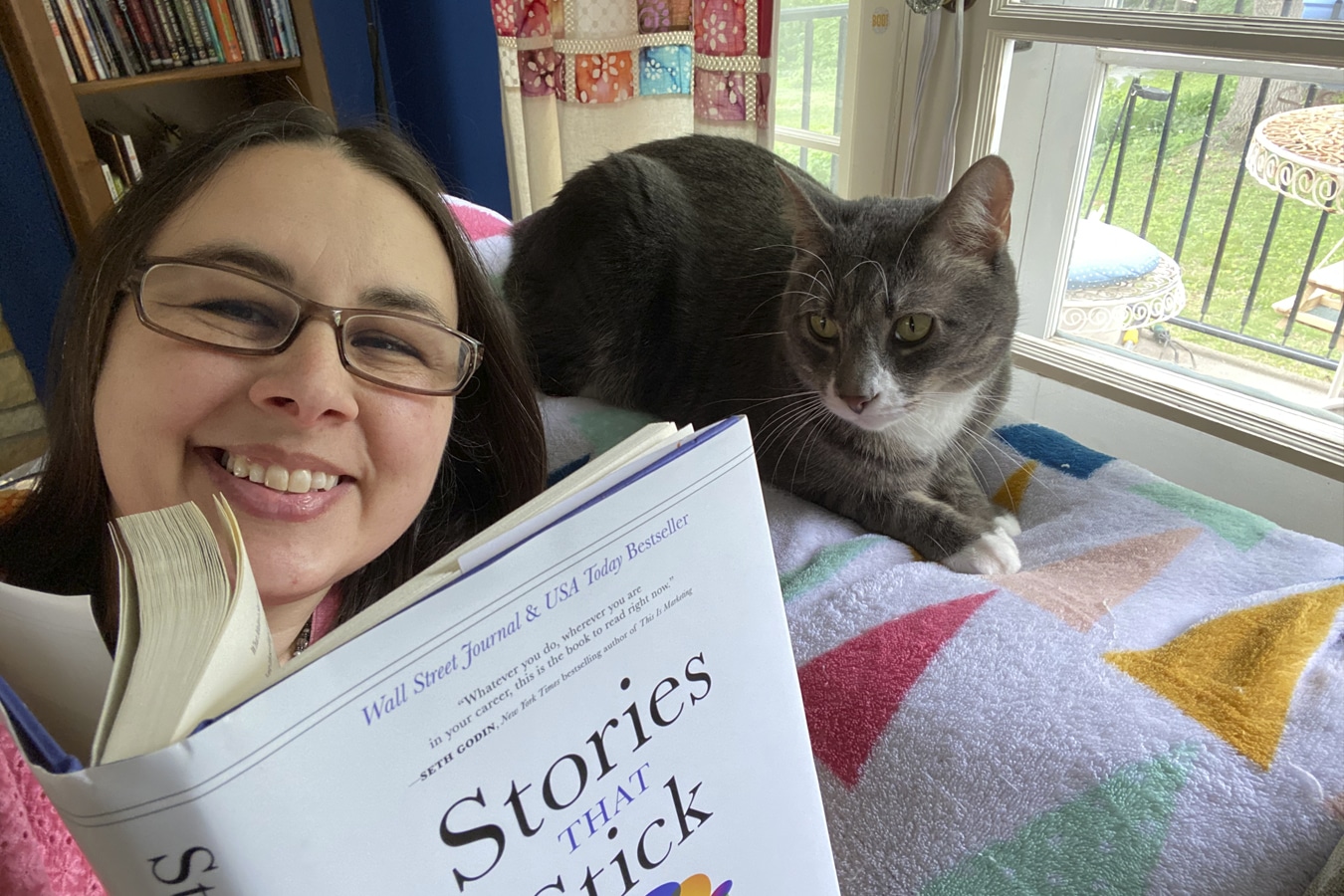 Casey tells the story of Kurt Johnson Photography through engaging social media posts, well-researched blogs, newsletters, and other copy including website text, bios, brochures, articles, and case studies. She's known around the office as "the word maven."
Her empathetic viewpoint allows her to hone in on the most important aspects of a project and share the parts people care about most.  She also acts as a medium from Kurt to the world and somehow manages to keep her sanity.
Casey handles video editing and assists with KJP's marketing initiatives and strategies.  A photographer herself, she also photographs and videos what goes on behind the scenes so she can tell visual stories along with written ones.
As a photographer and talented visual artist, Casey has a keen eye for photography that works.  She loves digging into Kurt's library of images and sharing the images that stand out.
"Kurt and Carolyn are amazing, caring people doing meaningful work, and I'm honored they trust me to be the voice of KJP and share their story with the world. I love helping them help others." 

-Casey Kurz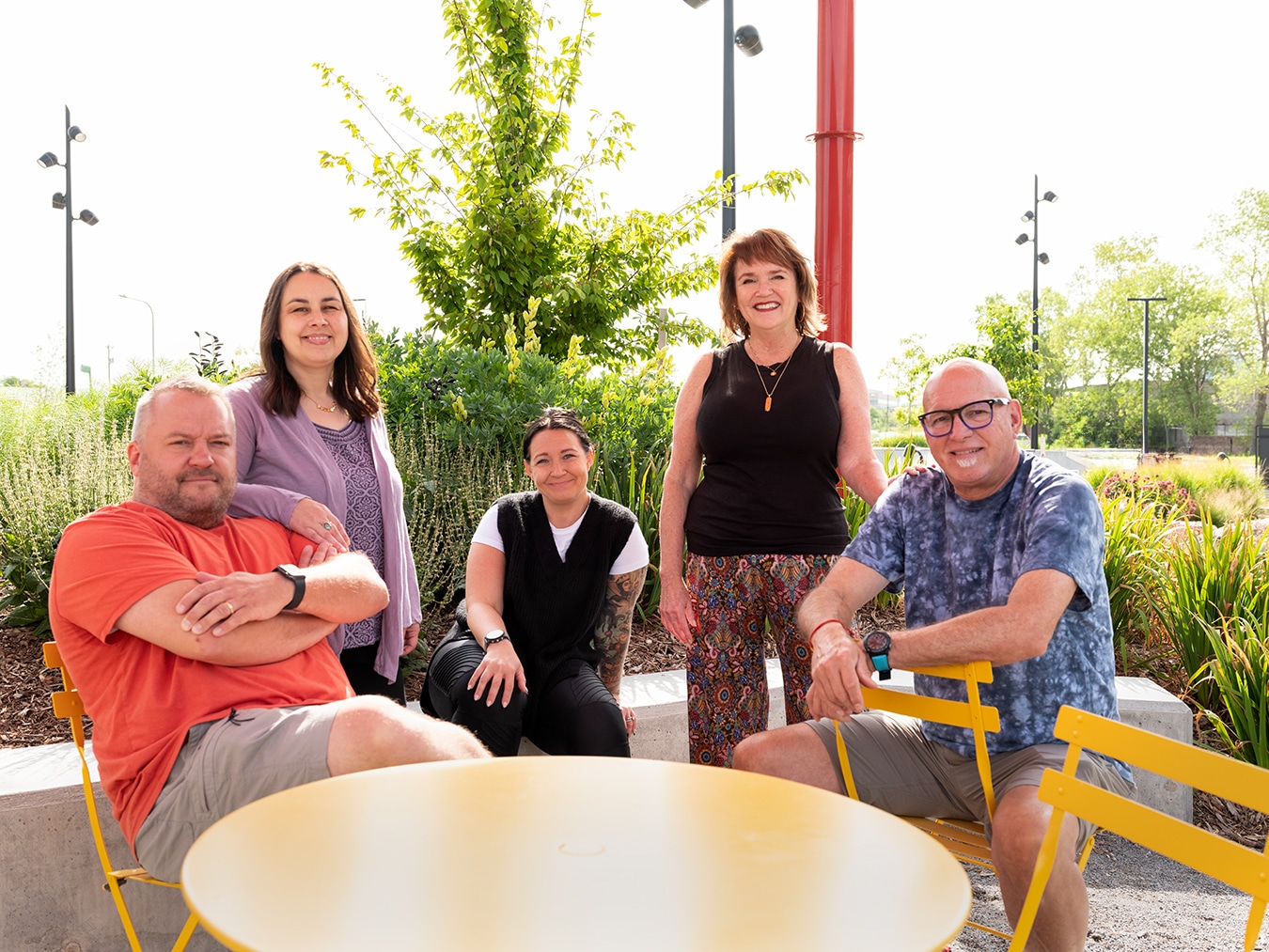 Some other interesting facts about the team:
Jerred and Casey are married.  They have a 13-year-old son, Logan, who shot KJP's newest team photos.
Jerred and Casey photographed Kurt and Carolyn's backyard wedding in 2007.
Tori used to live on the same street as Kurt and that's how they met.
Carolyn was a theatre major in college before switching to broadcasting and communications.
Kurt and Jerred love listening to true crime podcasts while on the road.
Everyone on the team is a big-time animal lover (can you really trust people who aren't?!).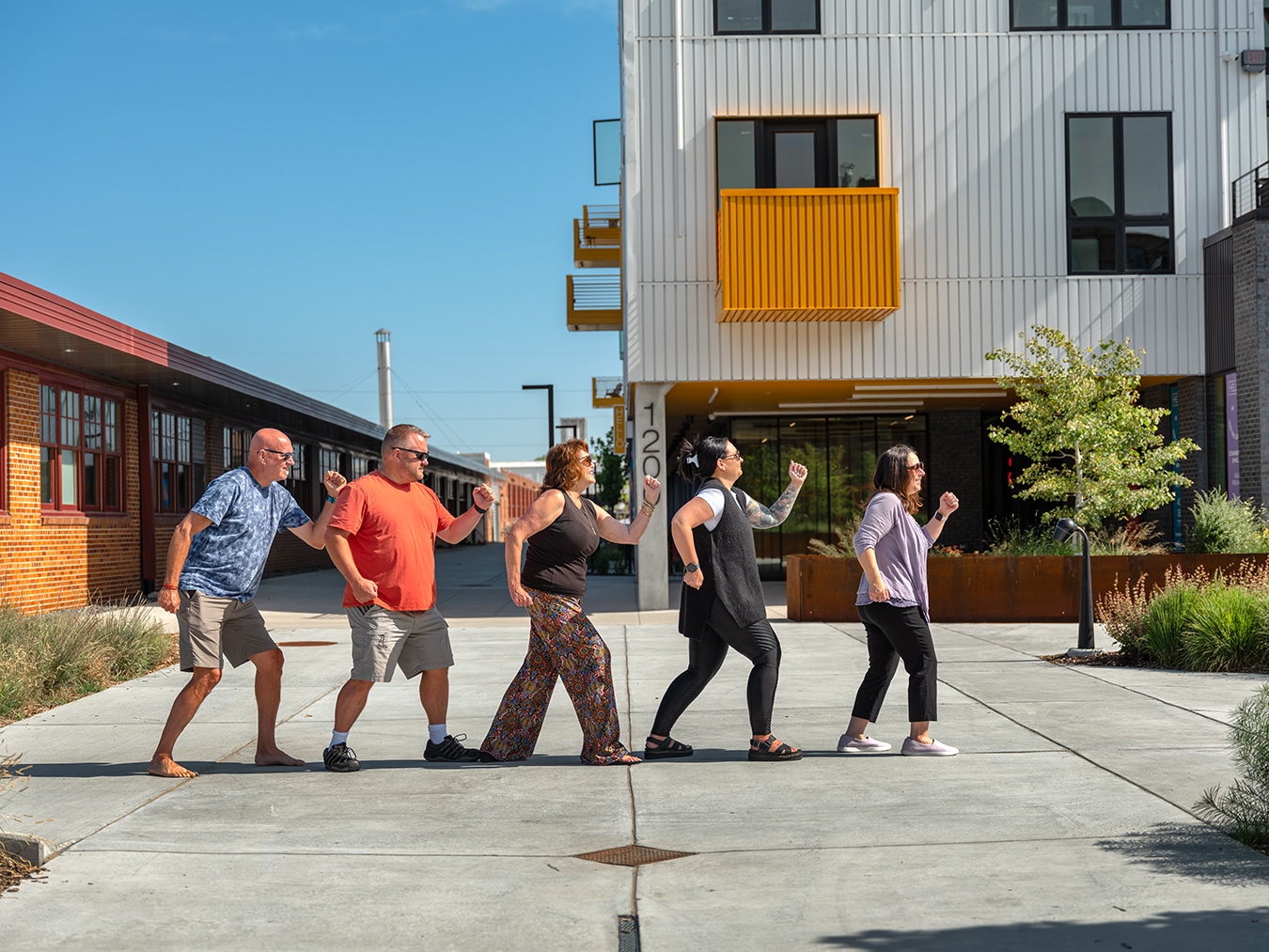 At Kurt Johnson Photography, we believe that bringing the natural world indoors through nature photography is essential for mental and physical wellness.  Bonus: We love doing it.
Having a talented team that can handle anything, gives you more flexibility in dreaming big.  If you can imagine it, we can bring it to life.  Contact us today to find out how we can help you create a healing space patients and staff won't be able to stop talking about.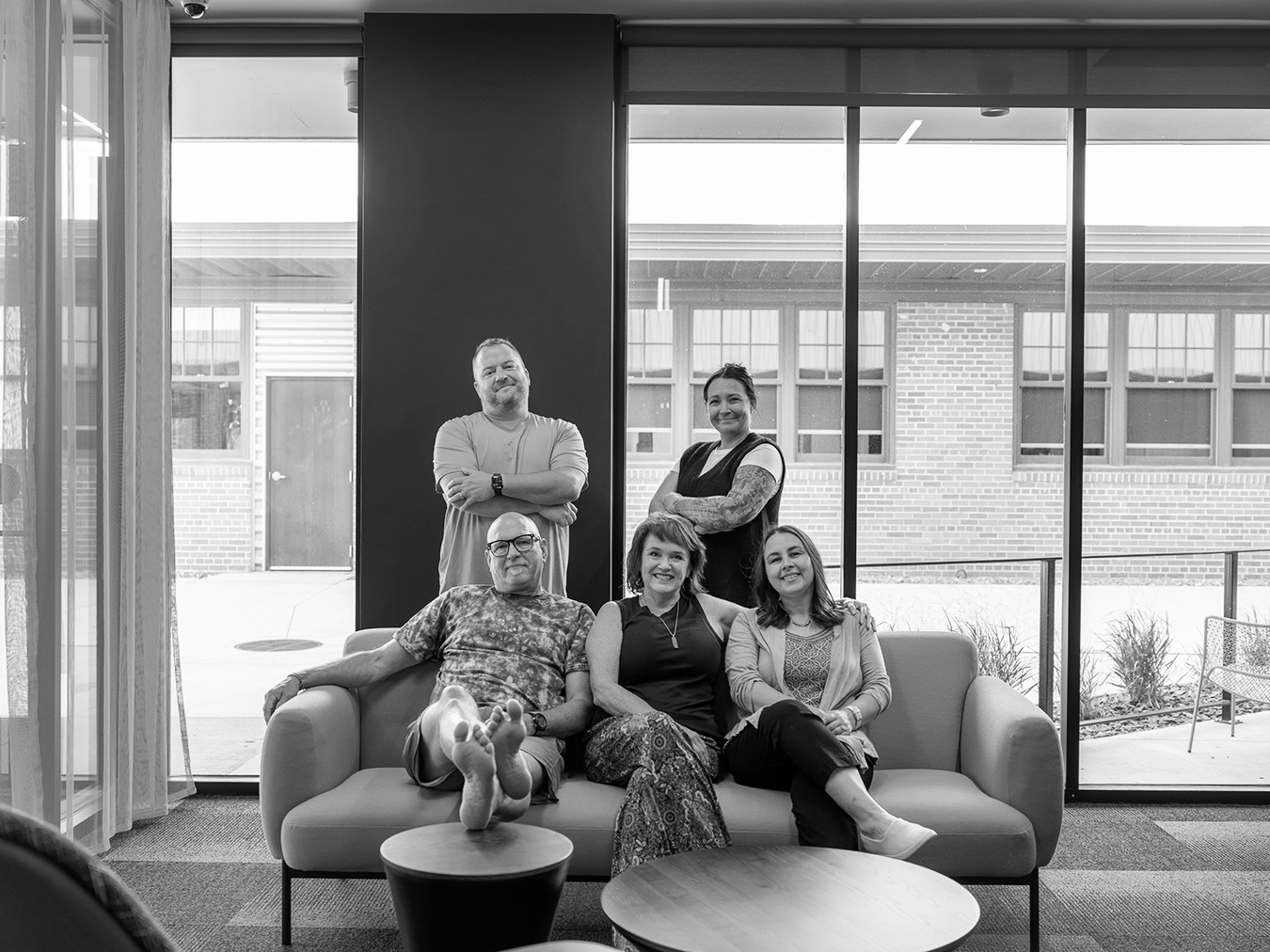 Seriously, this is the end of the blog.  If you made it this far, you should really contact us.