5 Ways DIRTT's Cutting Edge Technology is Making a Big Splash in Healthcare Environments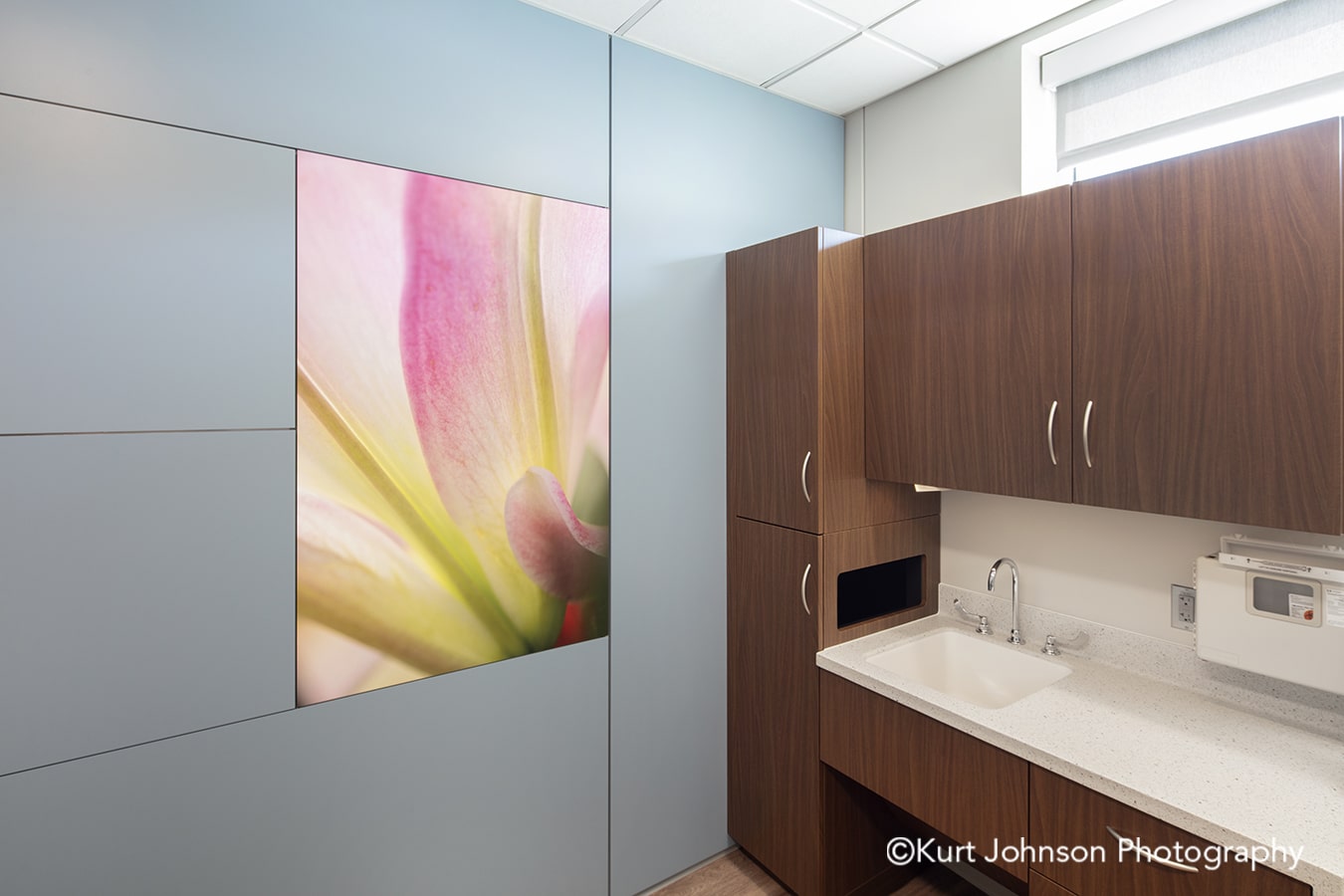 We recently worked with DIRTT via AOI Corporation in Omaha, Nebraska on a brand-new healthcare facility for Methodist Physicians Clinic Elkhorn.
DIRTT Environmental Solutions is a manufacturer of prefabricated construction products that help build out the built environment.
We caught up with Marco Lade, DIRTT Champion at AOI in Omaha, to talk about the benefits of using DIRTT products in healthcare environments and why collaborating with Kurt Johnson Photography for this project was such a success.
DIRTT is an acronym for Do It Right This Time. According to Lade "It's a statement about how we do construction."
Lade says, "typically when people think of DIRTT they think of DIRTT walls, which is what it started as, but DIRTT products have increased significantly since it started 17 years ago."
In addition to doors and walls, DIRTT now creates:
power networks and embedded technology (integrated into DIRTT walls),
timbre products
leaf folding walls
breathe plant walls
casework and
bespoke ceilings (custom ceilings for office environments)
raised access floors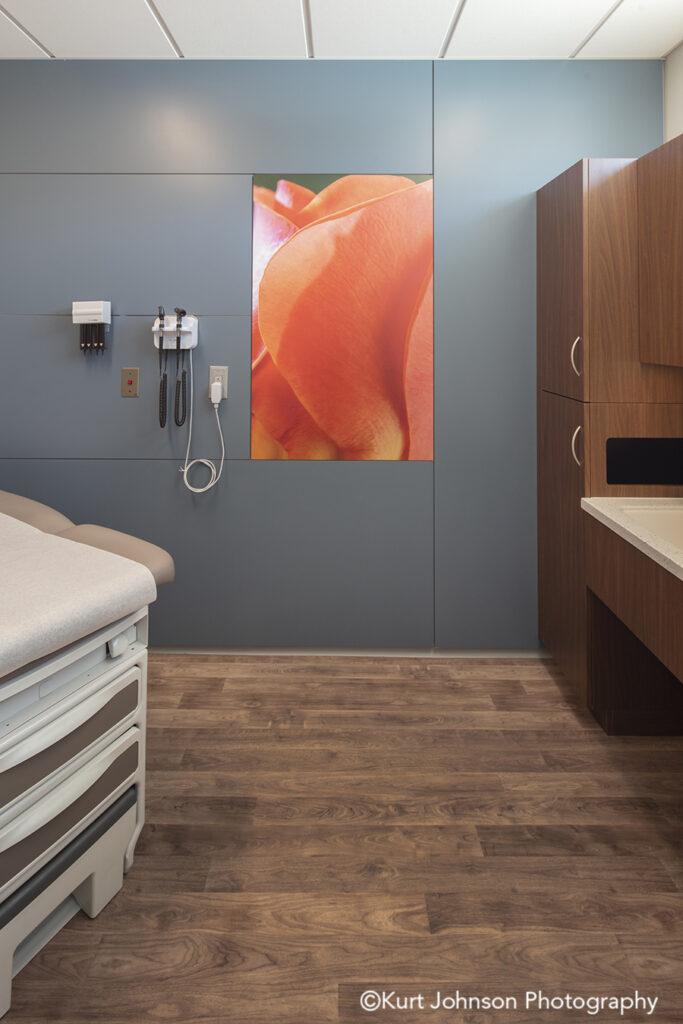 Lade talks about 5 Reasons DIRTT is the future of construction, especially when creating healthcare environments:
Cutting edge technology
According to Lade, "No one knows what kind of technology will be needed in the future."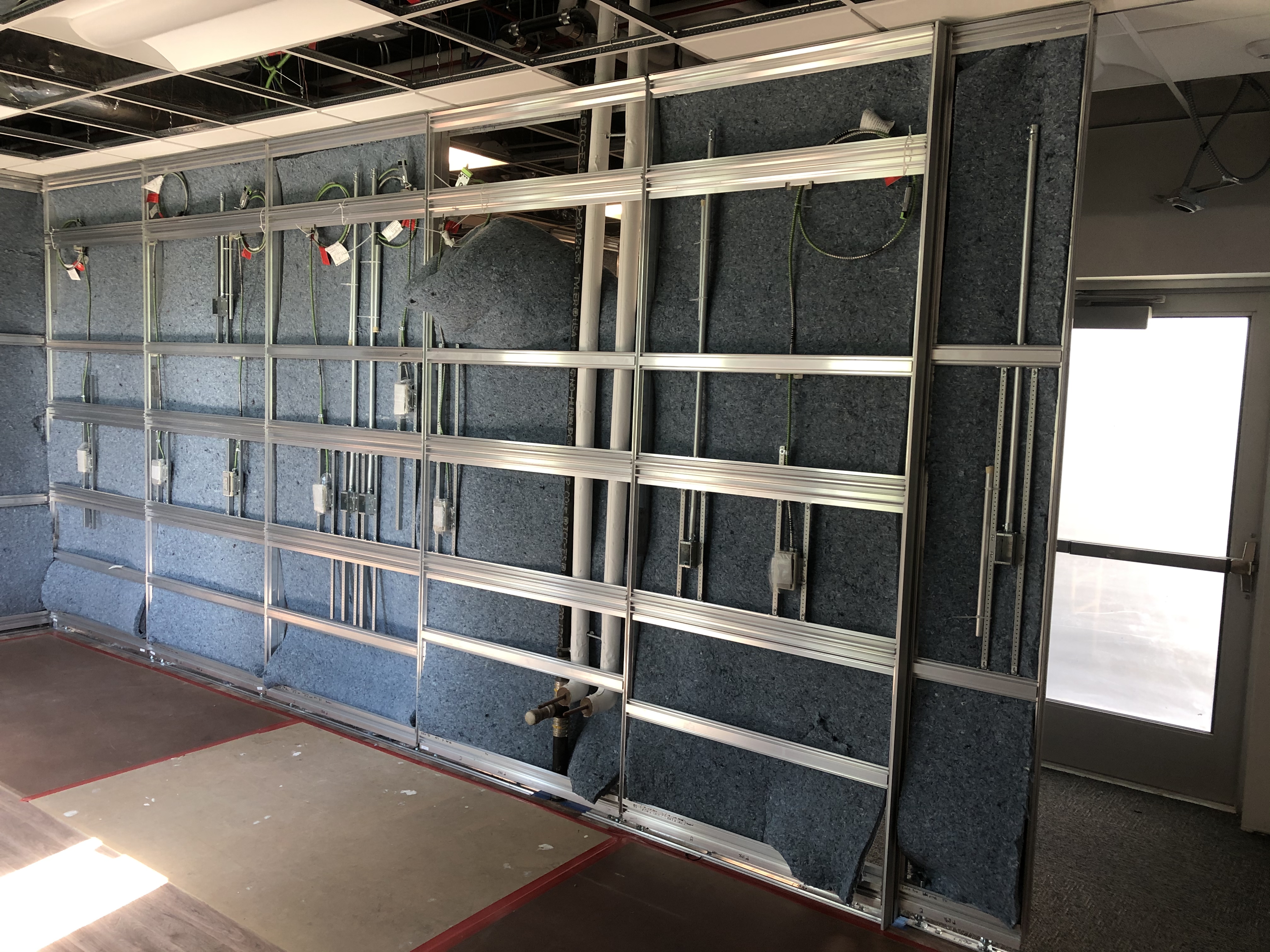 So rather than clients guessing what type of equipment they might need down the road, DIRTT walls allow easy access to what's underneath for immediate access at any point in the future, for whatever changes may come up.
Being able to easily pop off a wall tile and access the technology underneath is DIRTT's way of making healthcare environments "future proof."
2. Ideal Surfaces
Rightaway material, which was used in the patient rooms and the blood-draw room at Methodist Physicians Clinic Elkhorn, is a non-porous, antimicrobial dry-erase film, so it can withstand rigorous cleaning, which typical healthcare environments require.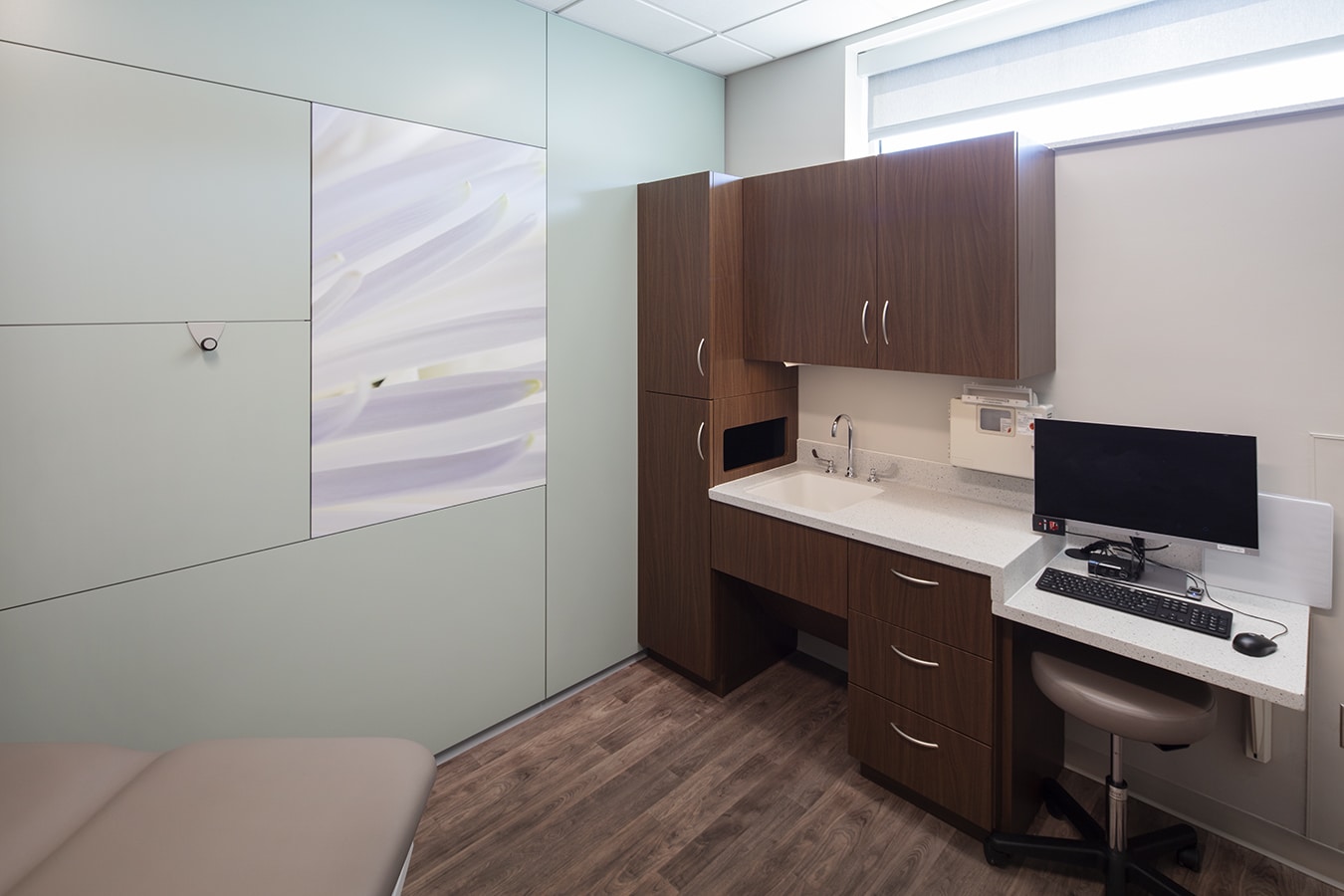 It can also be used as a marker board and has a 10-year anti-ghosting warranty which allows the walls to look just as good years down the road as they do on Day 1.
3. Fast Turnaround Times
Since DIRTT walls are manufactured off-site, they're being made at the same time the construction is going on, which can shave weeks, sometimes months, off a construction project. Being able to speed up the production process translates into the client being able to earn revenue much quicker.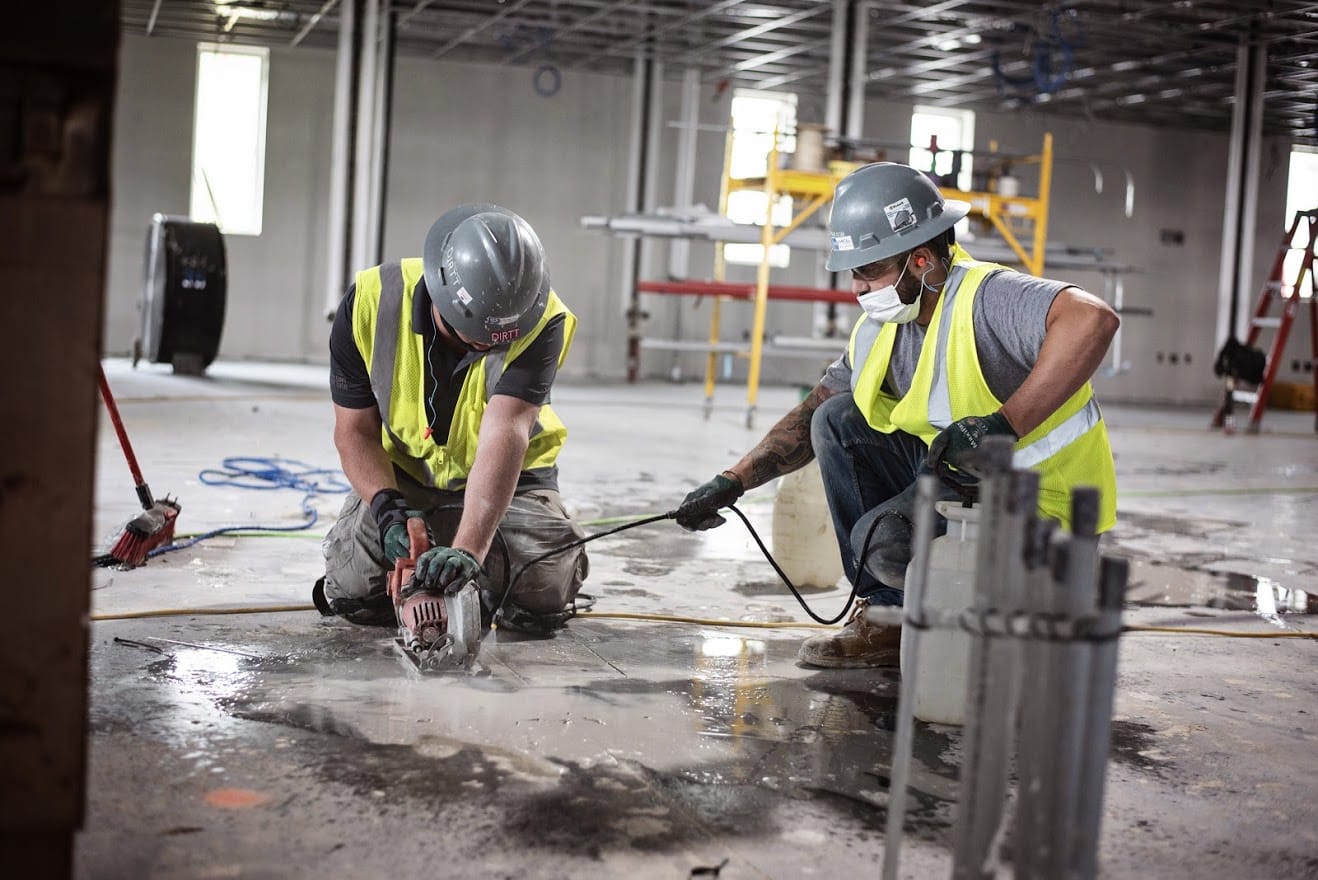 Lade explains, "It allows all the other trades involved in the project to have a wide-open space to work in, so they're not having to work around a maze of walls and a messy environment with drywall and dust that is typically associated with a construction project. By the time we walk off the site, it's done."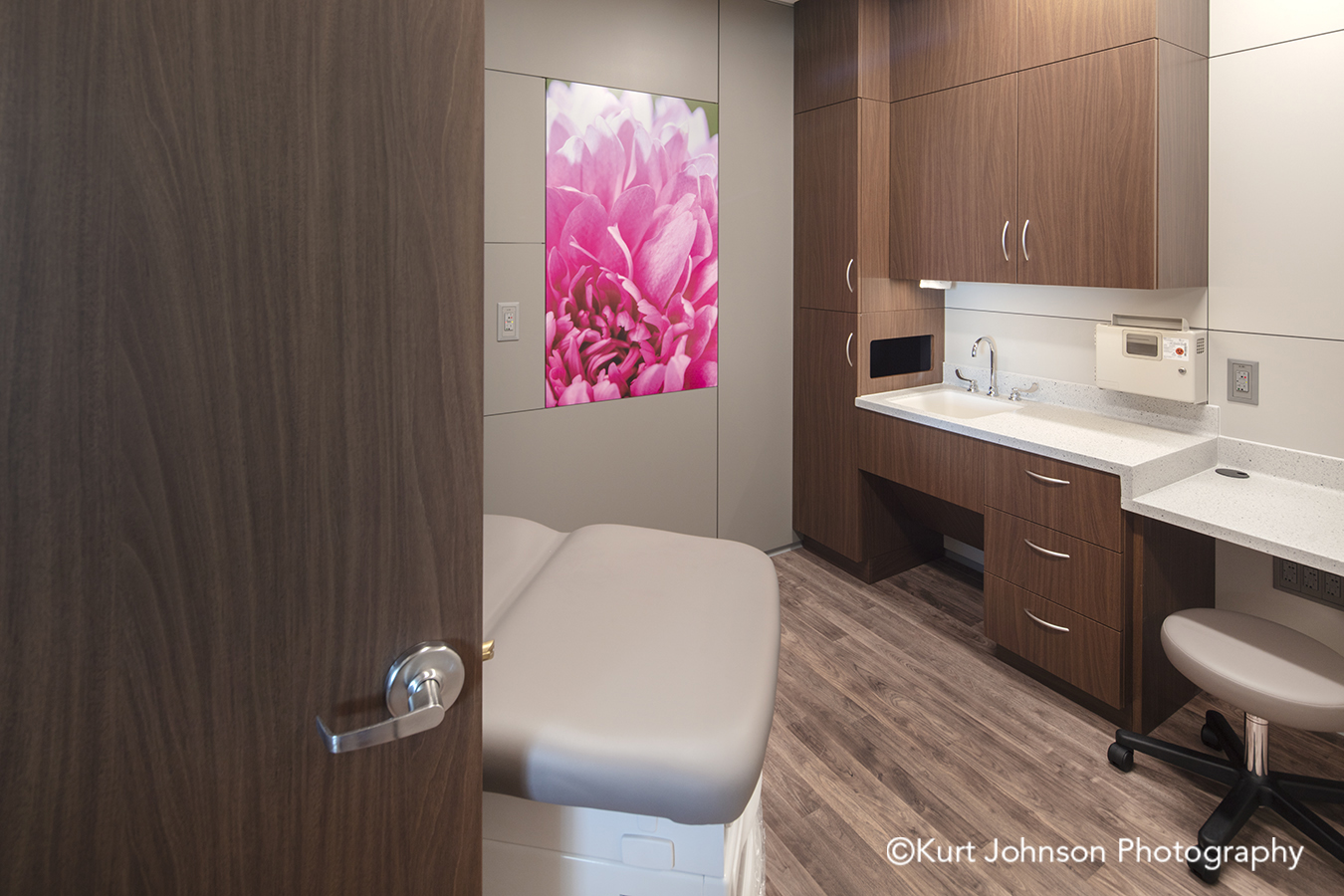 The advantages of working with Kurt Johnson Photography in such a fast-paced environment? According to Lade:
"They were ready. They gave us everything we needed. We never had to wait on anybody. One of DIRTT'S renowned features is its incredibly short lead times. We move incredibly fast. And we cannot afford to be connected with partners that drag that process down at all. And the Kurt Johnson Photography team went out of their way to make sure we were never waiting on them for anything. We were thrilled with working with them. We felt like they are a great partner for AOI in Omaha."
4. Accuracy
For Methodist's blood-draw room, the client chose one of Kurt's flower images to be highlighted across an entire wall as a visual distraction that would create a calming environment for patients. Most of Kurt's images can be enlarged without losing detail, which makes them ideal subject matter for larger applications.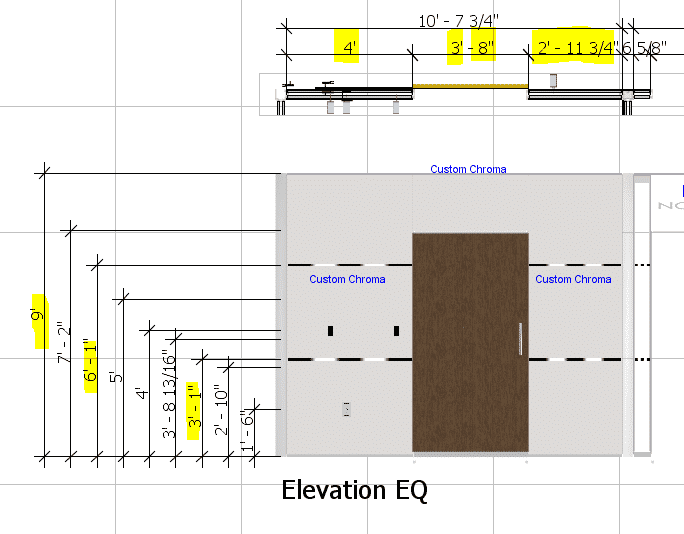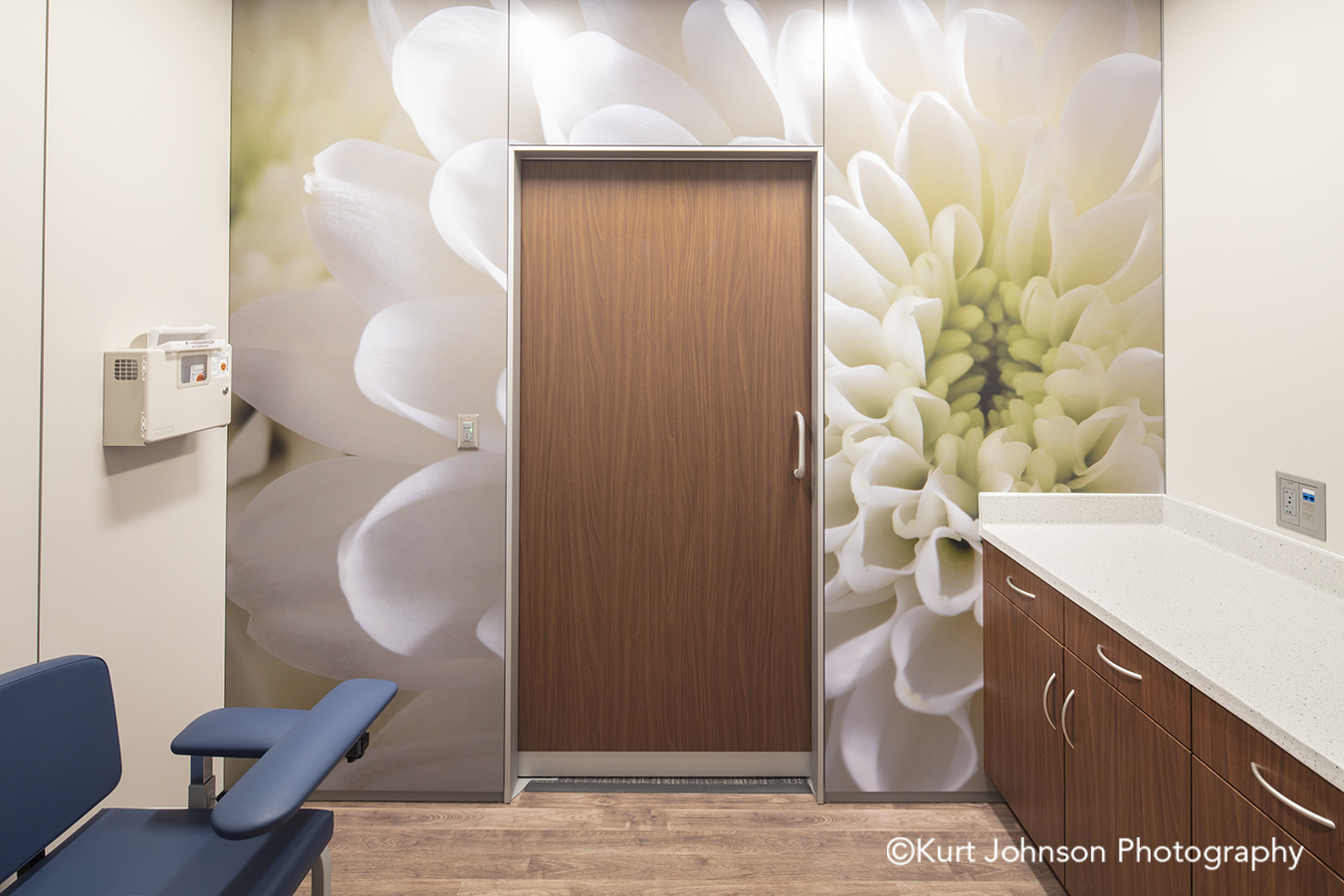 Lade explains the advantages of using DIRTT for Methodist's Installation:
"That room does highlight a challenge that is often very difficult in conventional construction when you have a large graphic that has to span across an entire wall. It can be a headache for installers to align that as they move across the wall. This highlights the benefit of having DIRTT's partner, Identity Ink, integrated into the process. It allows alignment to be pre-determined during DIRTT manufacturing. It's as simple as us popping those tiles into place. It really is a simple, straightforward way of doing very large-scale graphics."
5. Beautiful Finishes
As you can see from these installation images, aside from all the other benefits, the finished product created by DIRTT is simply beautiful in and of itself. Identity Ink prints all the graphics using a program called ICE and the result is bold color and accuracy in the details of the graphics. According to Lade, Kurt's photographs are the perfect pairing for DIRTT products:
"The nature of the material that he photographs and his eye for composition really lends itself well to taking some of these images and just exploding them. It's kind of interesting to see details blown up and magnified that you would normally not see in normal life. Printed on beautiful material like Rightaway, it can instantly transform a space."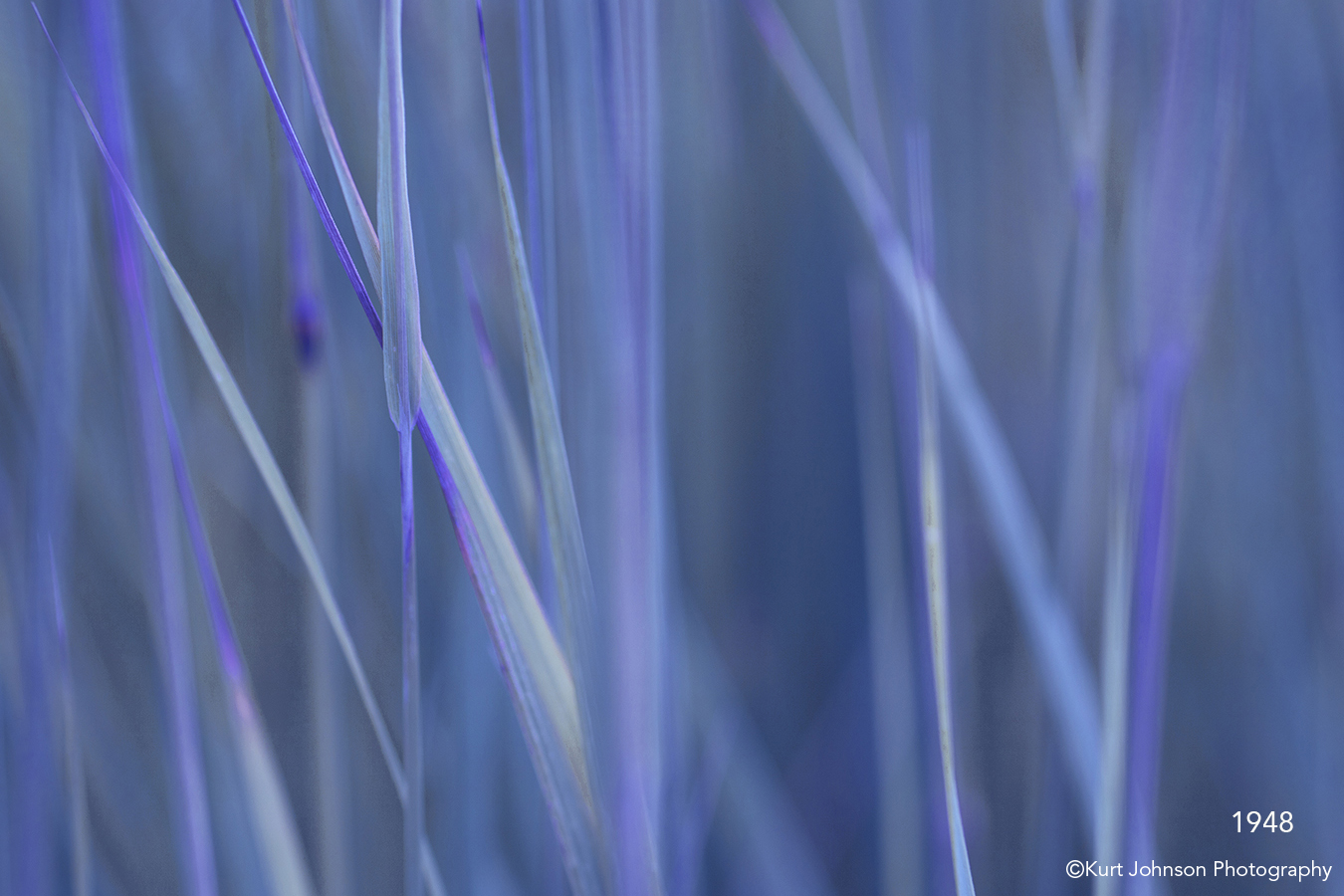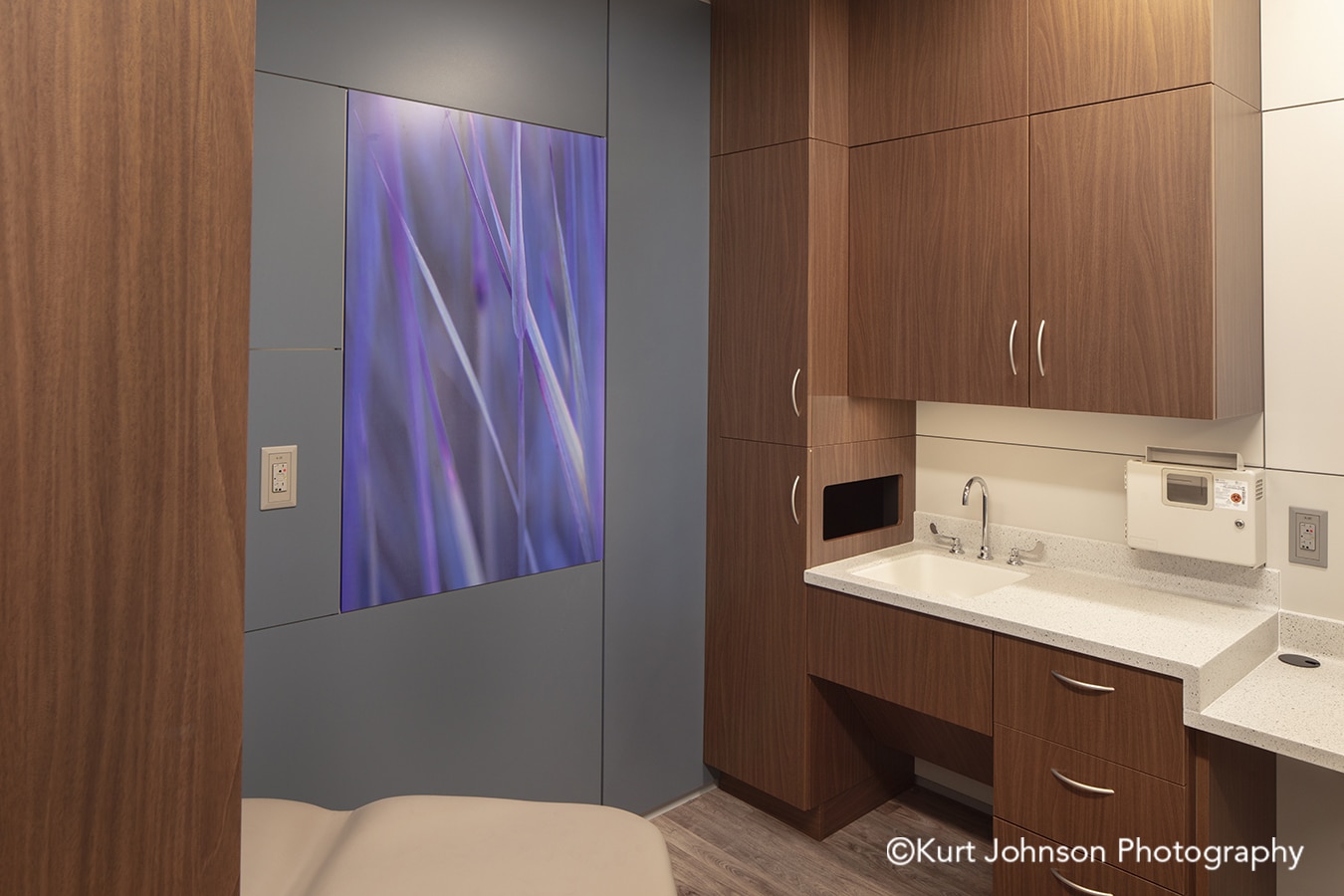 This project was Kurt Johnson Photography's second DIRTT collaboration. One of Kurt's images was also chosen to greet visitors in the lobby of Allina Health's Facility in Minneapolis, Minnesota.
For this installation, Kurt's photograph was printed on DIRTT Willowglass, creating a stunning display when anyone walks through the door.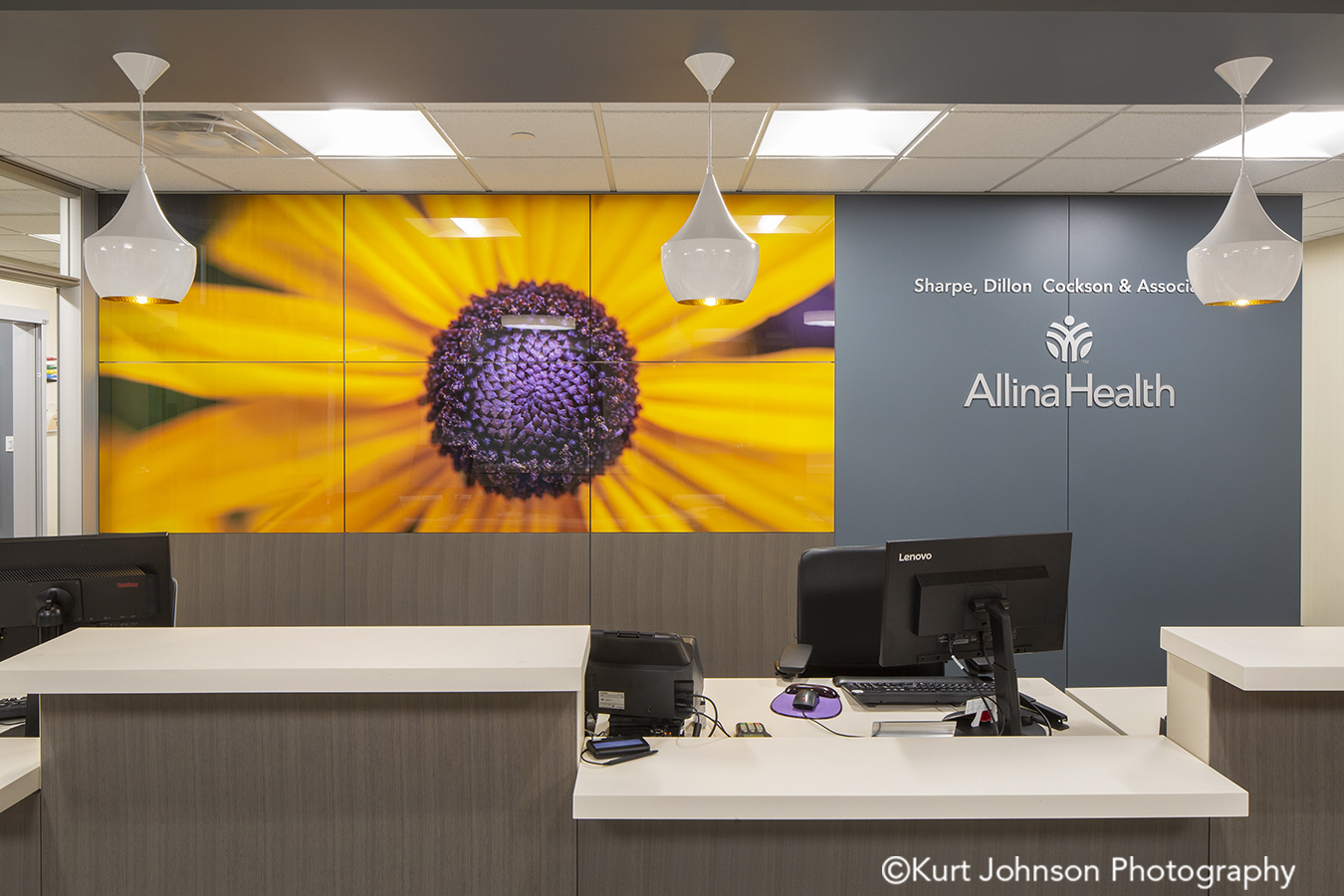 The result of DIRTT installations? Beautiful, "future-proof" spaces that are well-equipped to handle any changes that may be required in years to come.
And how does Lade feel about the result of Methodist Physicians Clinic ELkhorn?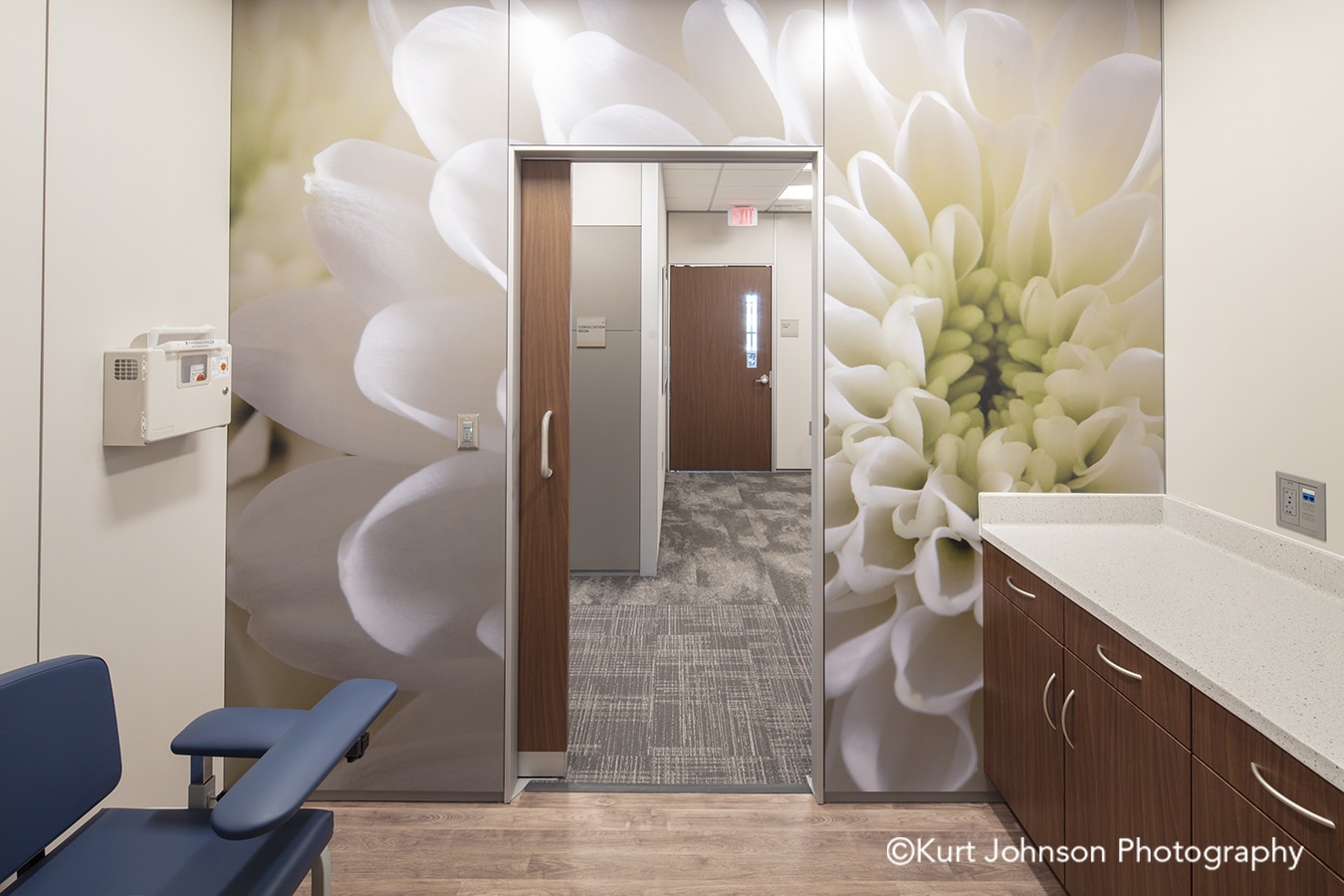 "Kurt Johnson Photography, Identity Ink, DIRTT, AOI Corporation, we just feel like everybody combined brought some world-class solutions to a need that was here. We used state of the art products and cutting edge technology to bring all this about . . . I think everybody involved is just thrilled with the outcome."
You can see more of our interview with Marco Lade here: