Bringing Nature Indoors with Panoramic Landscape Photography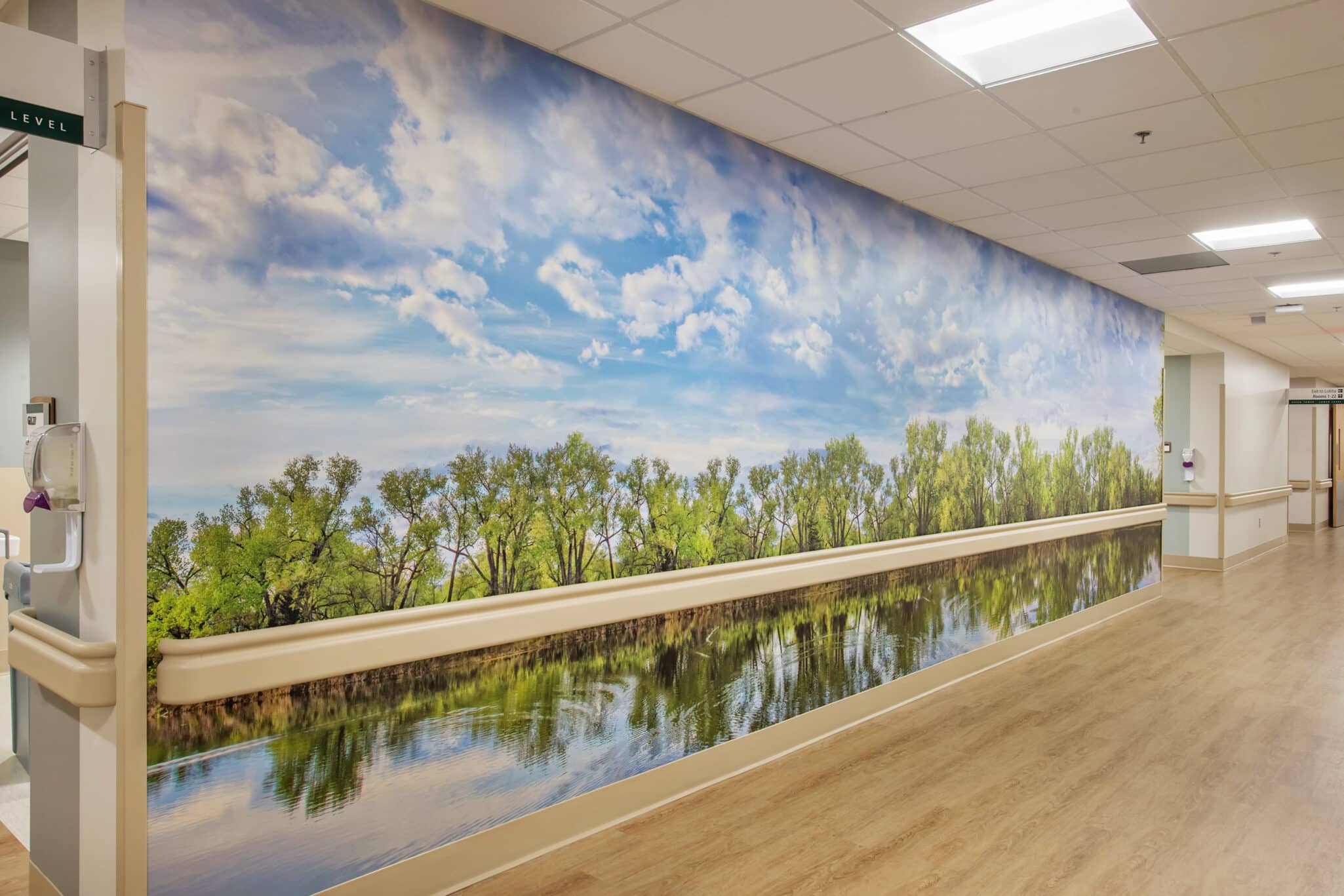 At Kurt Johnson Photography, we invest in the most important aspects of what we do.  From the talent we hire to making sure we have state-of-the-art equipment that produces high-resolution images that stand out and make your healthcare environment look good.
Bringing nature indoors with panoramic landscape photography means using the most advanced camera gear to produce amazing results.  Pardon our technical talk, but using cutting-edge technology with improved sensors, processes, and lenses results in things like:
Sharp, detailed images
Incredible resolution
Striking dynamic range
when taking and editing images.  Because how the images are handled after they're taken is just as important as what happens when you're standing in an ancient forest pressing the shutter.

Panoramic landscape photography has a broader view of the landscape, capturing the grandeur and scale of natural environments.  The result is an immersive viewing experience, which is extremely important (and beneficial) when you're trying to support positive outcomes in hospitals and other healthcare environments.
Panoramas make viewers feel like they're part of the scene.  Because of their size, panoramic landscape photographs are a popular choice when hospitals want to transform long, sterile hallways into soothing environments that provide wayfinding and support healing.
The elongated shape of panoramic images results in unique and creative compositions.  Panoramas emphasize leading lines, highlight specific elements, and create visually striking compositions that stand out.  They're a cool way of seeing the world from a different perspective – something we can all use a little more of. 
Panoramas enhance storytelling by giving a more detailed view of a moment or location. 
They capture the full scope of a scene, including the foreground, middle ground, and background producing a richer narrative.  Not too shabby when you're trying to make a big impact with a single image.

There are several techniques for capturing a wide field of view in a single image.
Any image can be cropped to a panoramic ratio, immediately creating a fresh take on a traditional image.  But depending on the size of the original image, scenes photographed with the intention of being displayed as panoramas, specifically, will have the highest resolution, making them look just as sharp when enlarged to 20, 30, or even 40 feet.  That's kind of a big deal in healthcare design.    
Kurt shoots with a high-resolution medium-format digital camera that allows him to crop scenes into panoramic views while he's in the field shooting, making it even easier to capture exactly what clients need for specific projects. 100 megapixels per frame is definitely a good way to get people's attention.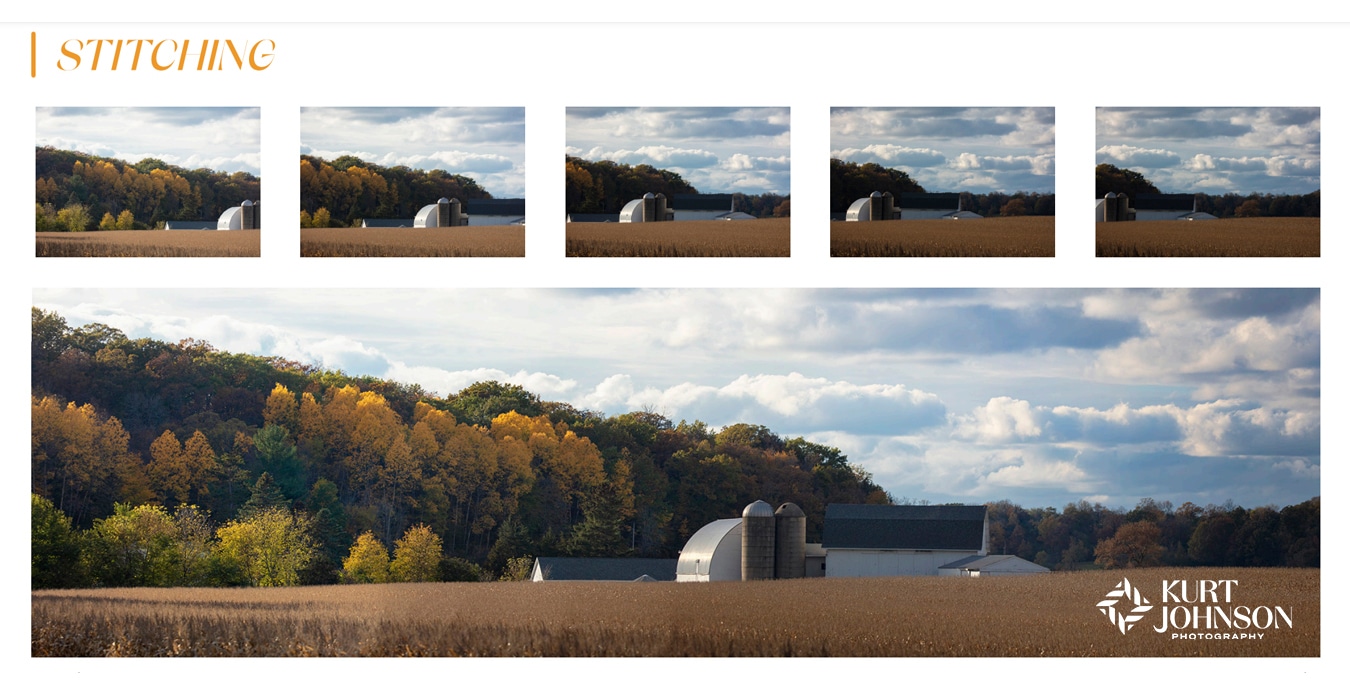 One of the primary methods of creating panoramic landscape photography is called stitching.
Stitching allows images to go big – really big, by blending several photographs to create one larger, panoramic image.
This method involves taking multiple overlapping photographs in a sequence and then aligning those images to create one, large-scale image.  Using multiple photographs allows a lot of flexibility in what we can create with the final image.

Mirroring is another way we produce panoramic landscape photography.
Creating a panoramic image by mirroring is especially useful when you have a photo you want to extend horizontally but don't have the opportunity to capture a wider scene in a single shot.  For example, sometimes a client will fall in love with a specific photograph, but the original image isn't a panorama or wasn't captured as a series of multiple images.
In those cases, mirroring, where we create a reversed or mirrored version of the image, giving the appearance that the image extends further than the limits of the original photograph, can result in spectacular views.
The success of creating this type of panoramic landscape photography depends on the quality of the original image (which is why we use the newest camera equipment) and the skill of blending elements of the image to create smooth transitions between the mirrored and original sections of the photograph.
The alignment of the images must be flawless to produce a stunning, final panoramic image.  This is where Tori Gerkin, art director for KJP, comes in.  Her eye for detail, technical skill, and years of experience in photo-editing are essential to producing seamless results that allow viewers to feel like they're part of the scene.
Tori has also created panoramas for clients using a combination of stitching, mirroring and even manipulating elements from multiple photographs to create desired looks.  Our creative team works closely with clients to ensure no detail is overlooked.
And think panoramas only go one way?  Some environments have tall ceilings or want to utilize high-traffic stairwells to create a calming atmosphere that extends beyond the waiting room.
Having a vast library of high-quality photographs, and not just the best photo-editing software, but the most talented people editing the photos, makes your life easier.  You do the fun part – imagining the scene or the feeling you want to evoke and let us handle the rest – making your vision come to life.
Your creative vision drives our innovation, which is why we invest in the most up-to-date equipment and work with some of the best creative talent in the industry.  This allows you to go beyond the limits of an individual image and dream big with large-scale capabilities.  What environment do you want to bring to life?  We'd love to help you bring nature indoors!