Celebrating New Opportunities with Koroseal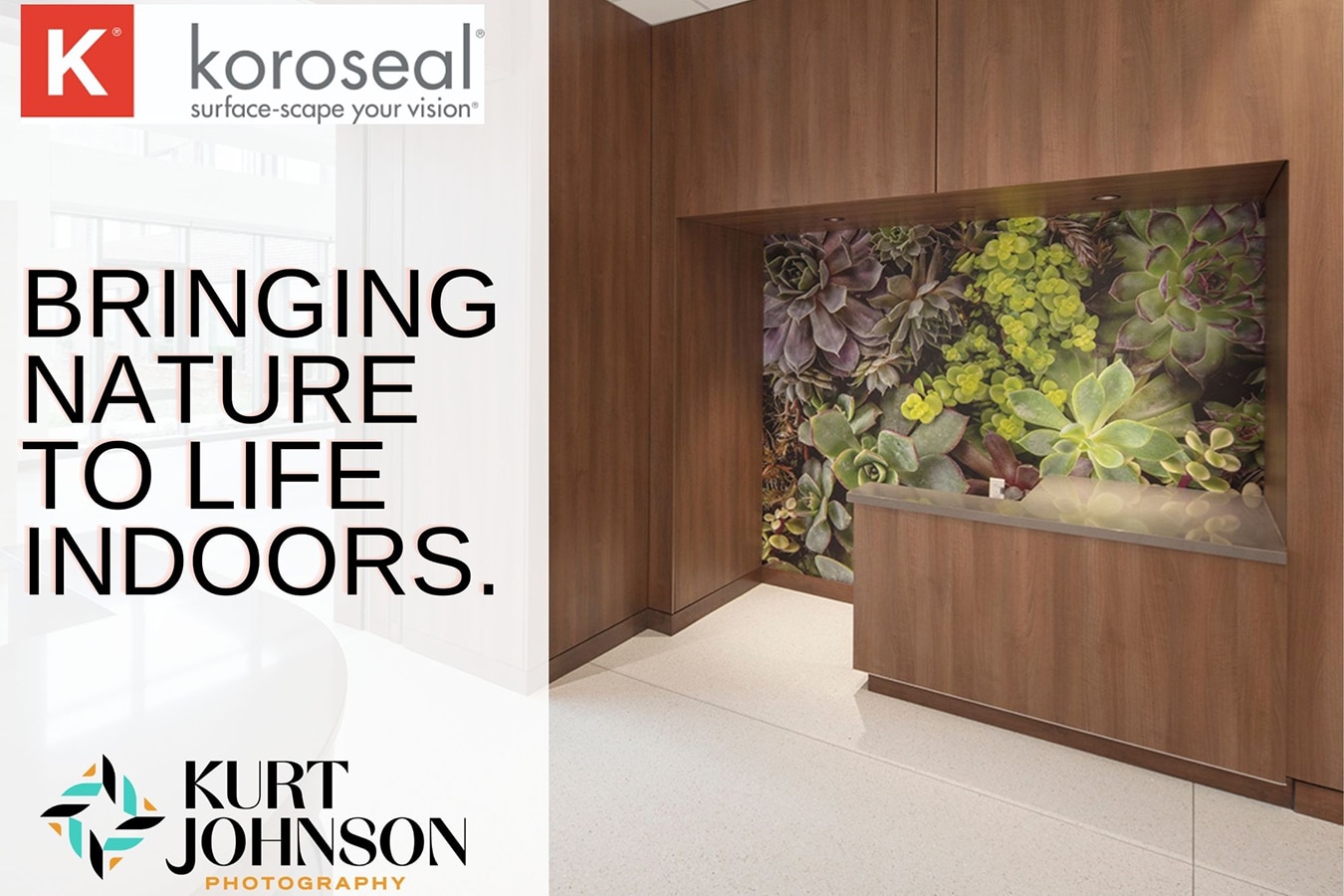 "Instead of a traditional solid wallcovering, we're offering Kurt Johnson's imagery as an option to add a decorative and calming element to an often chaotic environment."

– Marc Moss, Koroseal Interior Products
We have some amazing news to share.
Our nature-based imagery is now available on the substrates manufactured by Koroseal Interior Products, a leading provider of contract wallcoverings and other innovative interior finish products.
Koroseal representatives will now offer the beautiful nature photography KJP creates on their vast portfolio of material options, including Koroseal's newest product, FUSION, a digitally printed wall protection product designed to meet the needs of the healthcare, hospitality and retail markets.
We're stoked about our ability to offer our imagery to a much wider audience and on an international scale.

– Kurt Johnson, Kurt Johnson Photography
The Koroseal program will include more than 50 KJP photos that will be featured in Koroseal's printed materials and on the Koroseal website. Select photos and designs will be proprietary to Koroseal's substrates, although designers can use any of KJP's photos or choose to have original, indigenous photos taken.
According to Koroseal Director of Digital Marc Moss, Koroseal's new partnership with KJP comes at perfect time: Koroseal is launching a new product called FUSION, a digitally printed wall protection product which is beautiful, durable and cleanable, and able to withstand the unique demands of hospital corridors and patient rooms.
Moss stated, "Instead of a traditional solid wallcovering, we're offering Kurt Johnson's imagery as an option to add a decorative and calming element to an often chaotic environment. Kurt Johnson and his team are great people. We couldn't be more excited about this opportunity."
About Koroseal Interior Products
Koroseal Interior Products is a market-leading specialty commercial interior products platform with highly recognized brands and unparalleled distribution capabilities. Koroseal is a leading designer, distributor and producer of wallcoverings, presentation surfaces, wall protection systems, digital printing and other complementary specialty interior products. This comprehensive product offering includes category-defining brands with differentiated features, premium quality and best-in-class service, giving design professionals the assurance that Koroseal products will not only look beautiful but also perform to the highest standards.
For more information, visit www.koroseal.com.