Design Solutions That Improve Outcomes in Established Healthcare Environments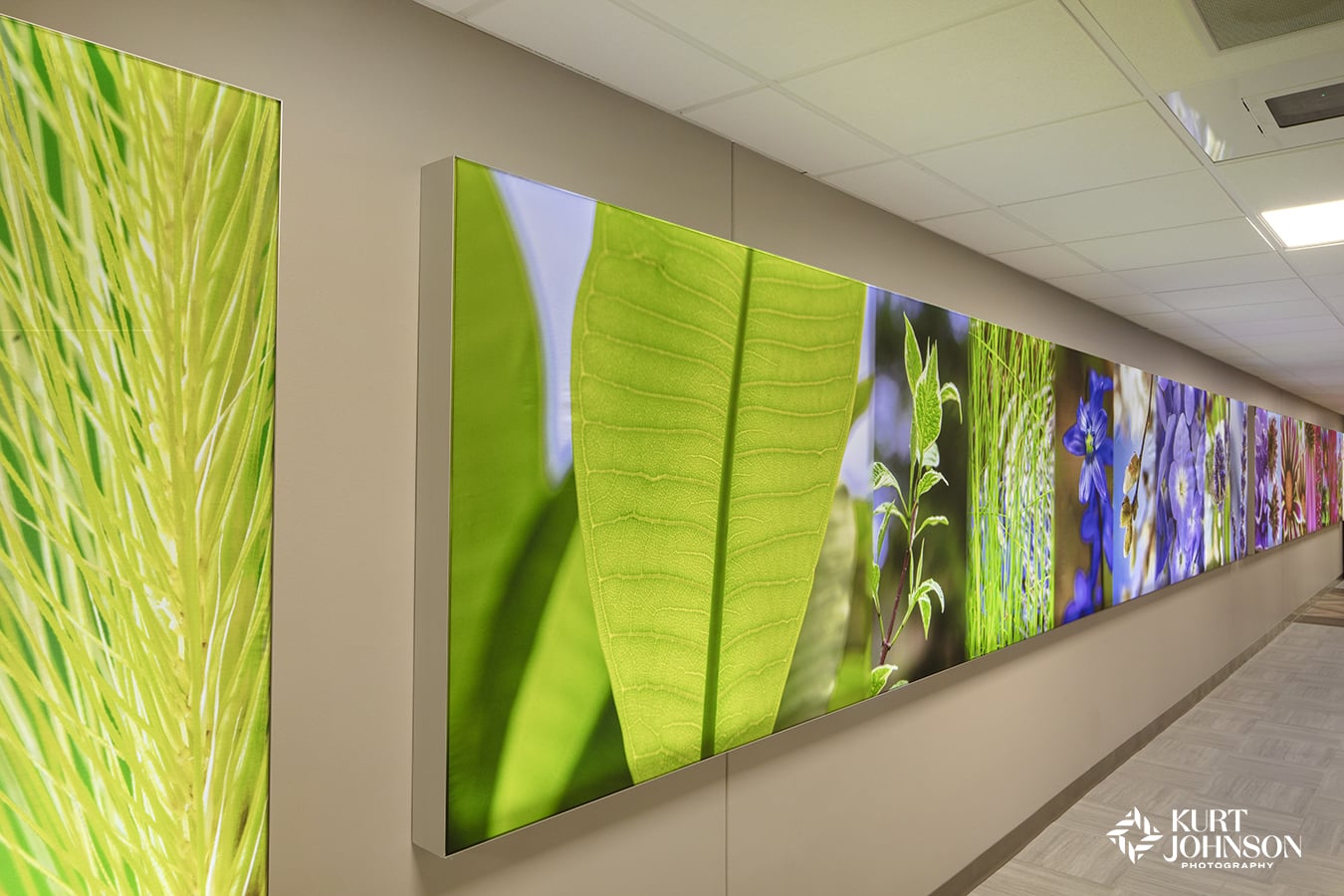 No windows? No problem.
How do you brighten a long corridor in the basement of an established hospital that has no determined set-up for lighting, while also adding artwork that will improve patient outcomes, energize staff and create a calming, healing environment for all? For CHI's Immanuel Hospital in Omaha, NE, built in the mid 1970s, the combination of Kurt Johnson Photography's healing nature photographs along with a unique REXframe display by Renze was the perfect self-contained solution.
CHI wanted to add color, light, and an element of biophilic design to an extremely large (and blank) wall space that ran parallel to the dining hall within Immanuel Hospital. Scant lighting and the confines of older construction limited their options, but we've been around long enough to know there's a solution for every environment. You just have to find it. And we worked closely with CHI to determine the best solution for their facility.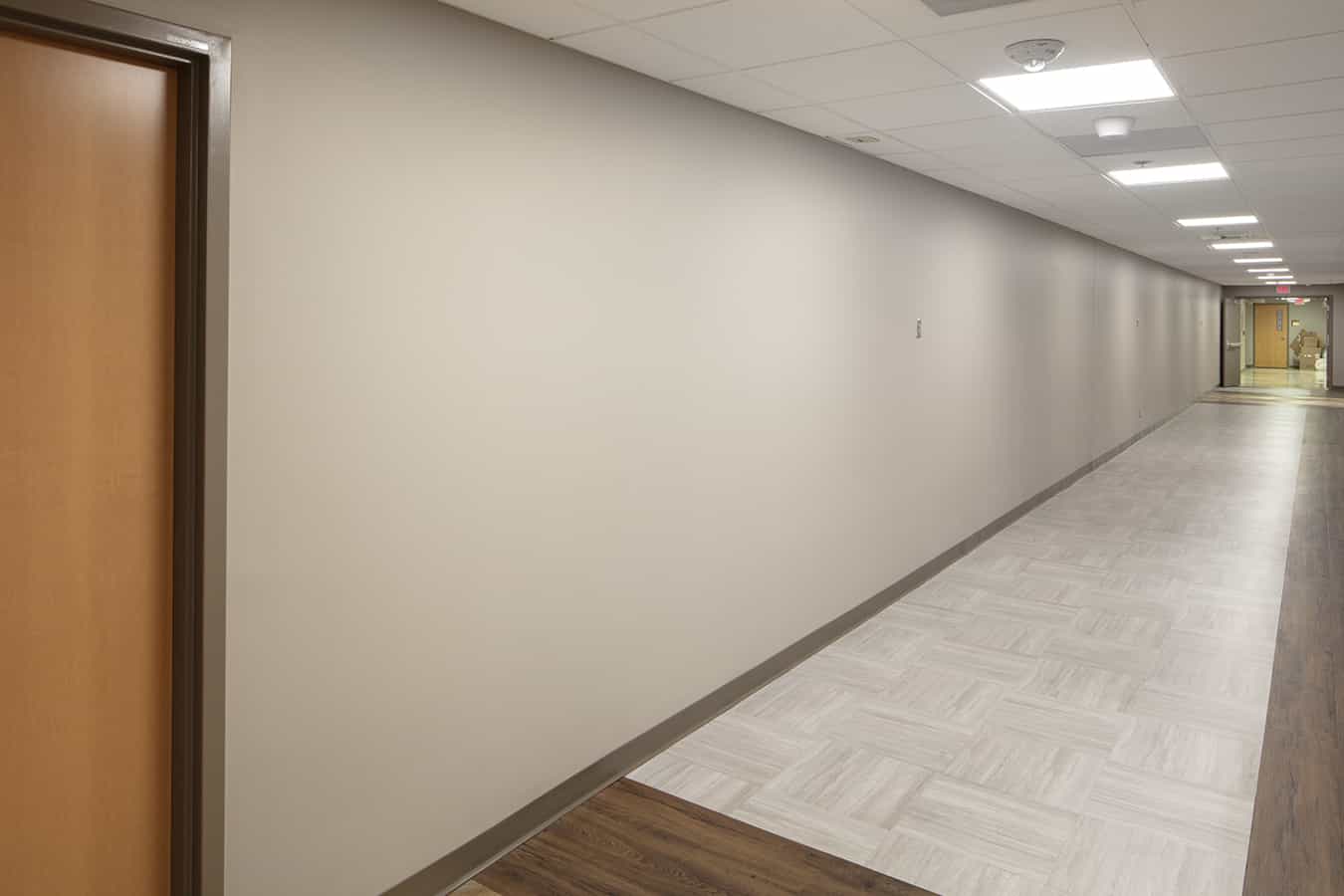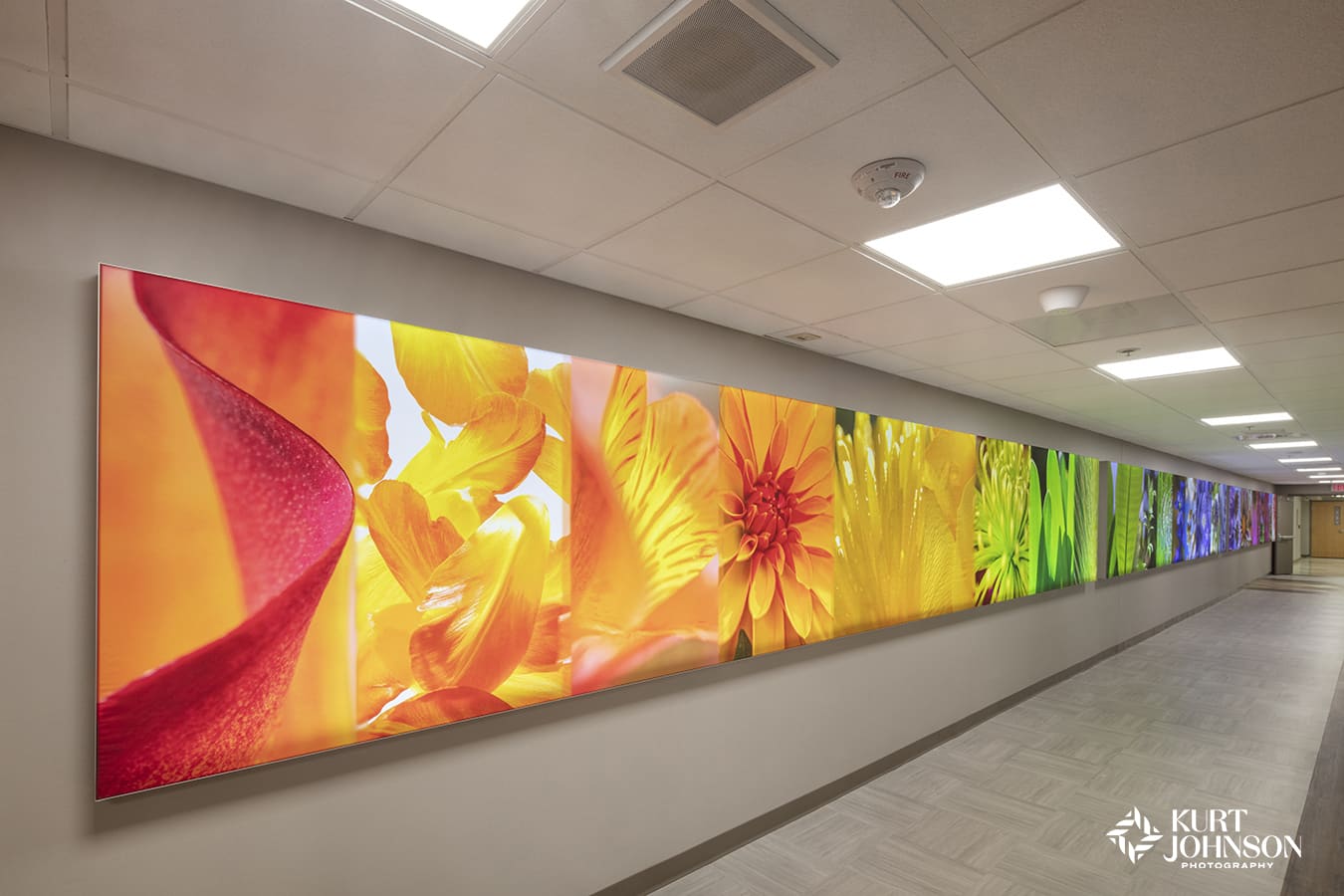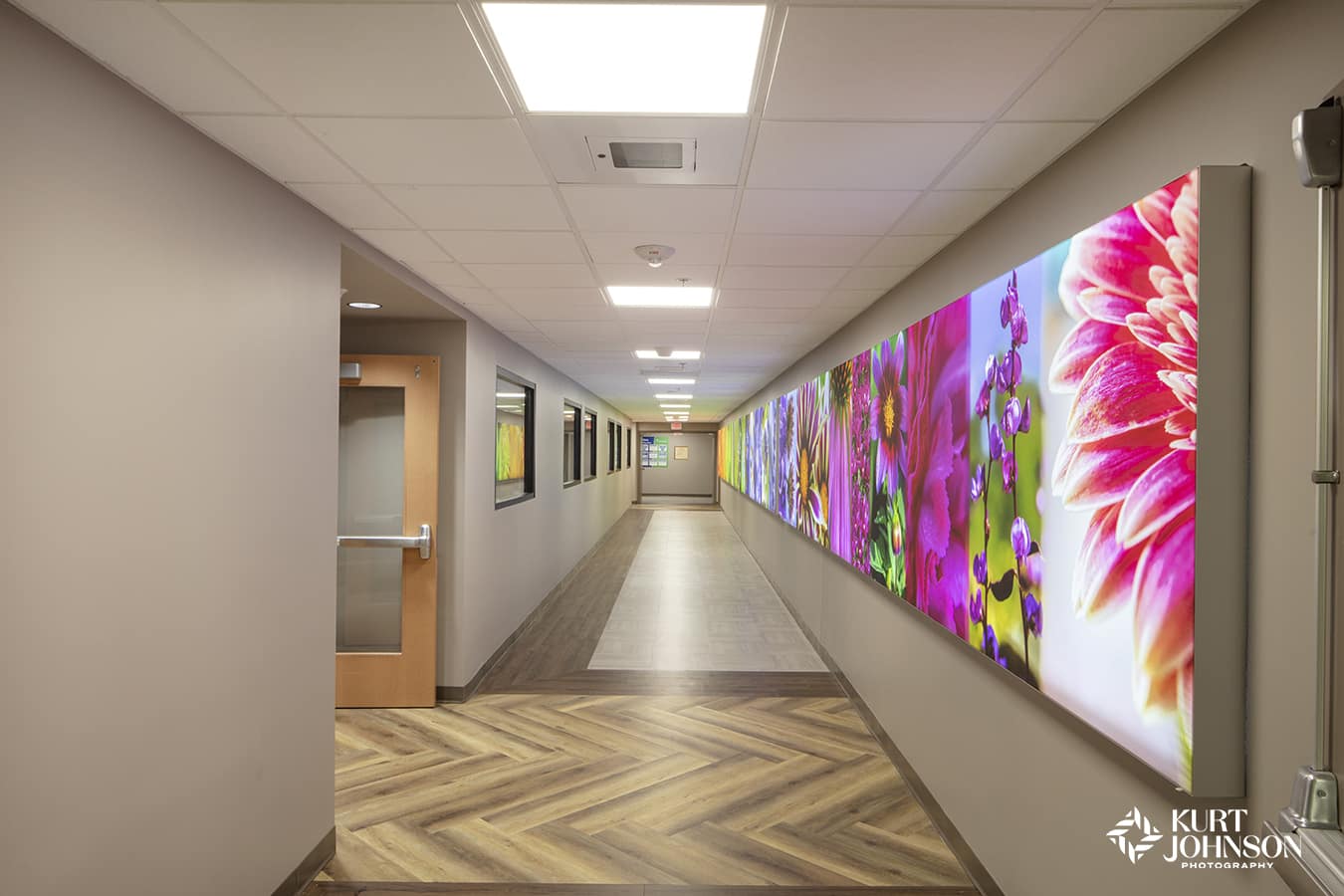 According to Carol McCormick, SASHE, CHFM, Director of Facilities Plant Operations & Maintenance, CHI wanted artwork that would support their mission of healing while also brightening the corridor:
"As a facilities director, I read a lot of articles about design and healing environments. It is proven that nature photography aids in healing, not only for the patient but also for the caregiver and family. Using nature photography fits right into our mission – making the healing presence of God known in our world. What better way to do that then to use God's creation to help heal! "

CHI's Immanuel Hospital decided to use a colorful, uplifting collection of images that would span nearly 90 feet of corridor space in the blank wall outside the hospital dining hall. The artwork would be visible from inside and outside the common area.
We worked with Renze and determined the best fit would be a custom KJP color slice printed on Renze's unique REXframe, allowing Kurt's nature photographs to be printed onto fabric and fitted to sturdy aluminum frames, creating a lightbox that illuminates the photos from within. REXframes are a powerful way to transform a space.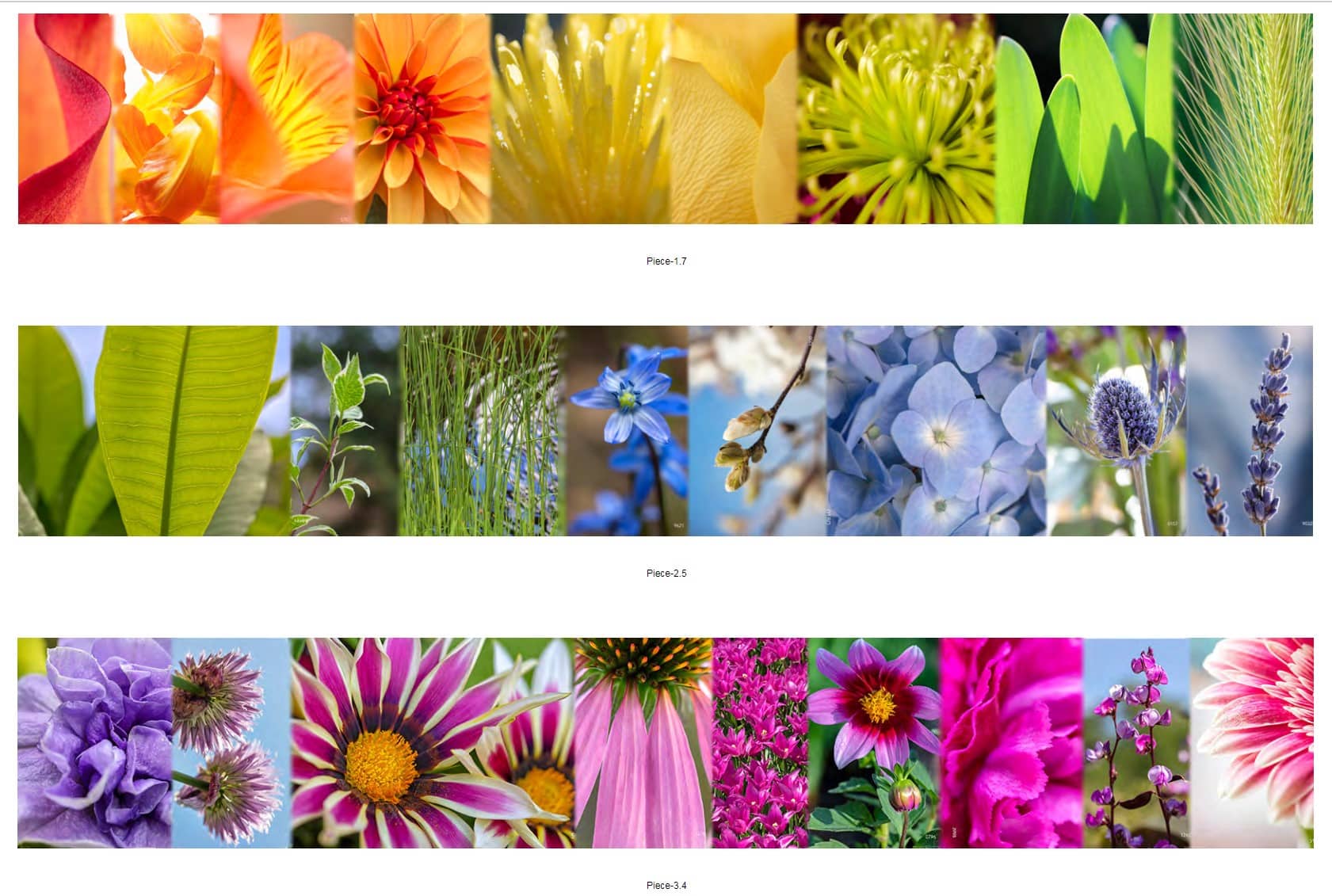 Tori Gerkin, KJP's artistic director, worked with CHI to create a custom color slice, which is a collection of Kurt's images carefully paired by color, theme, or design. KJP's color slices allow clients to use a collection of images, rather than having to choose just one. The result was a beautiful collection of images creating the ultimate positive distraction when illuminated by Renze's vibrant REXframe.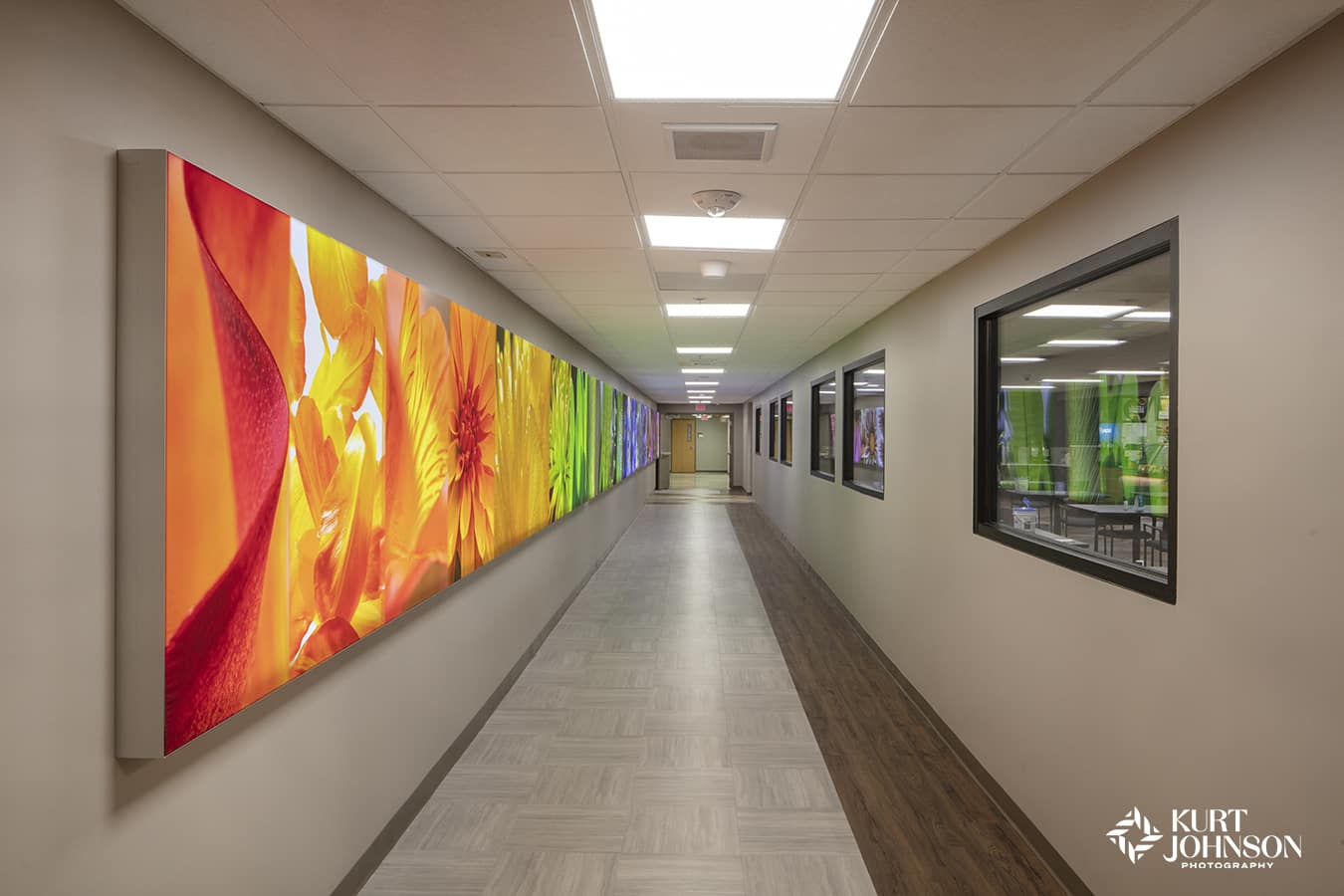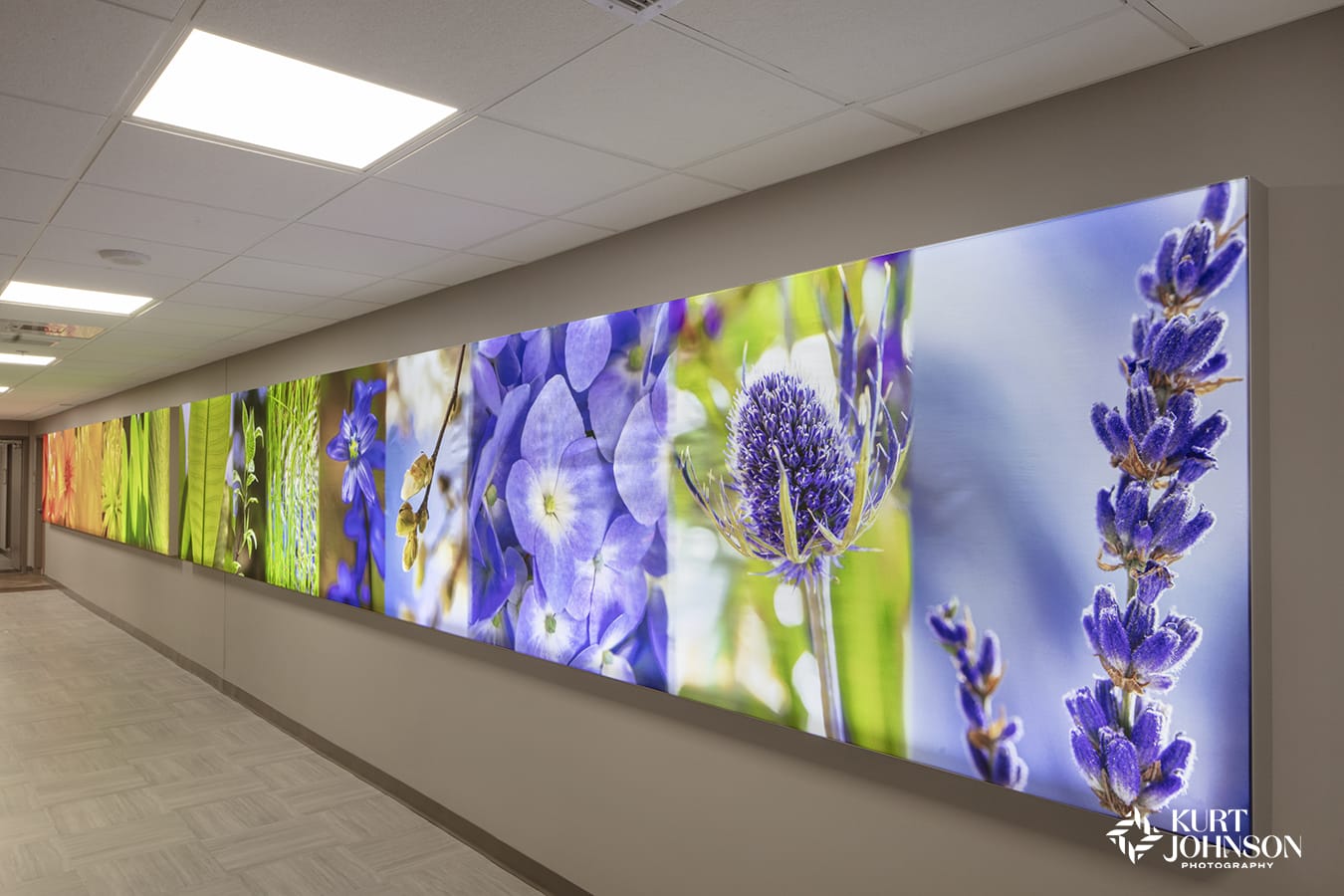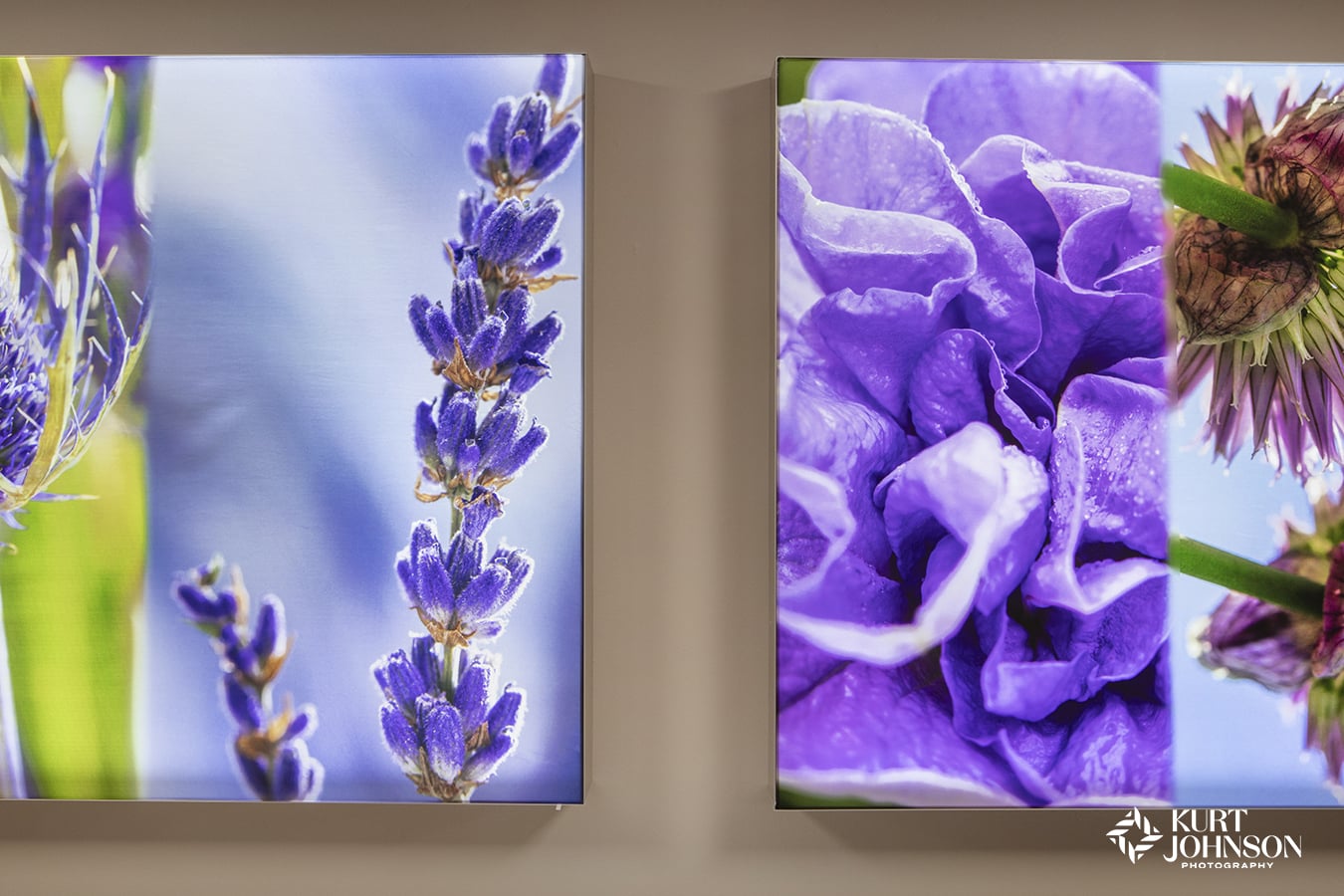 Renze's state-of-the-art equipment which, according to Stephanie Magers, Senior Account Executive, includes "recently updated Italian 126" wide dye-sublimation fabric printers that produce . . . vibrant color and detail like never before.  These enhancements, when combined with the non-glare elegance of our fabric, produce images that are stunning!"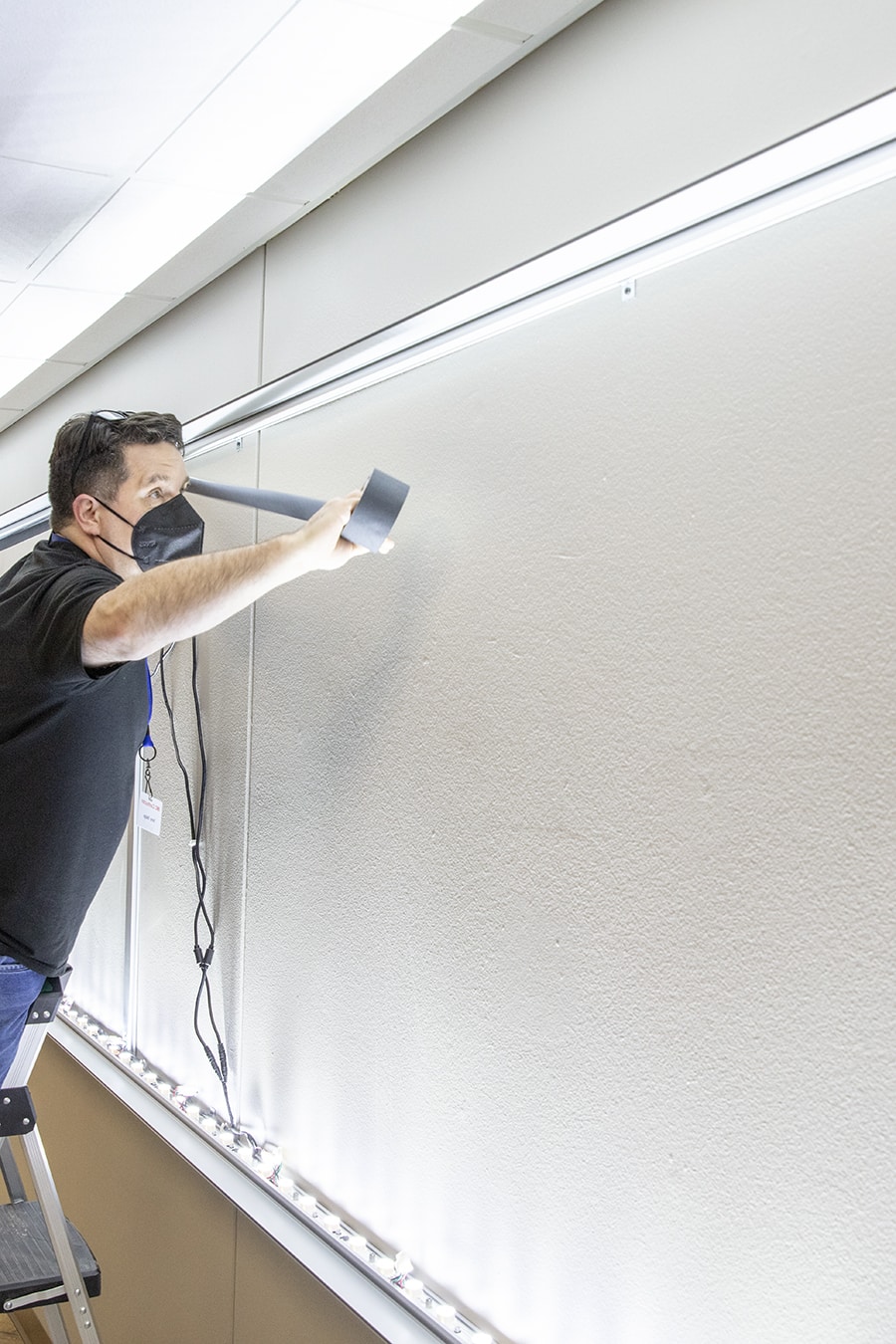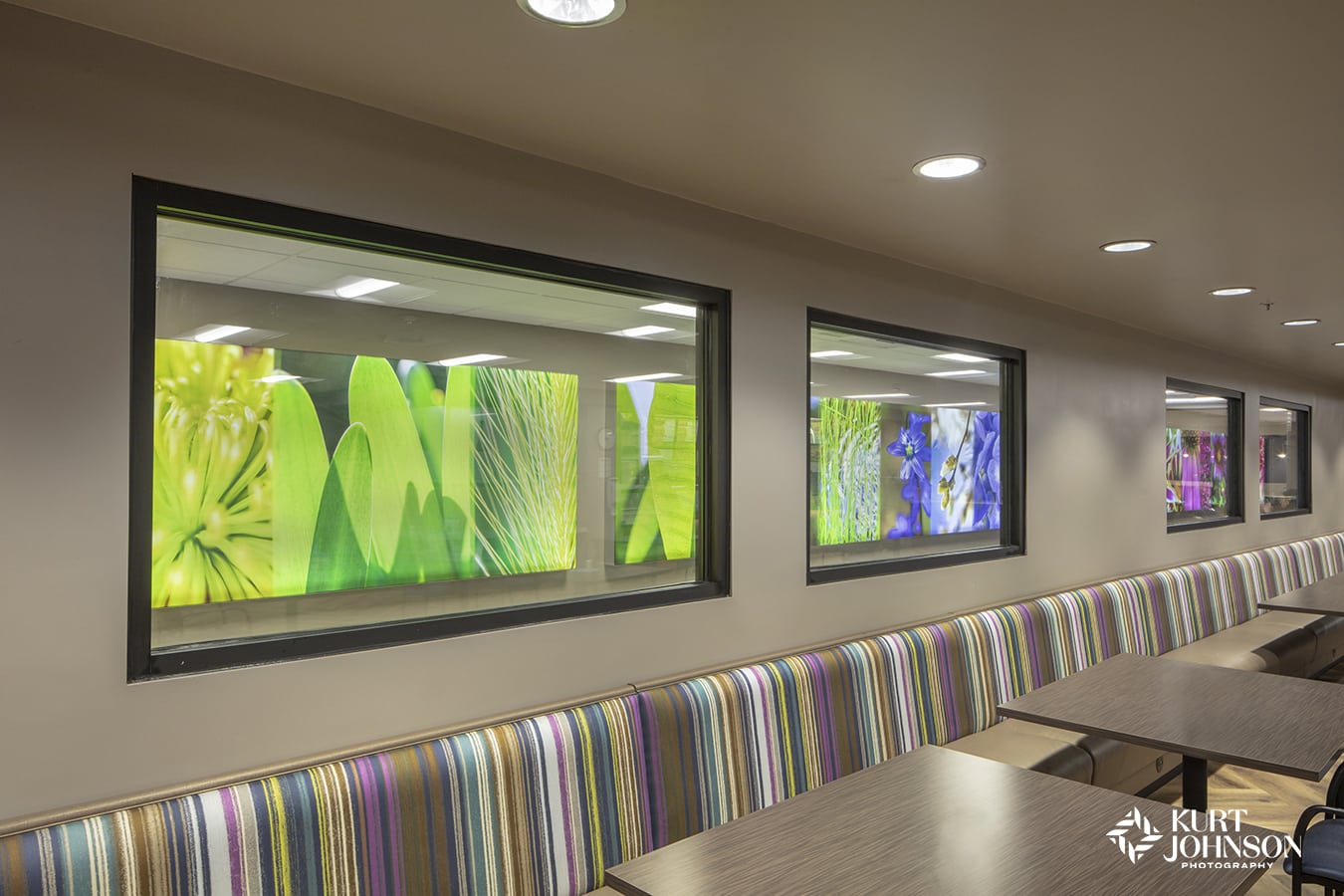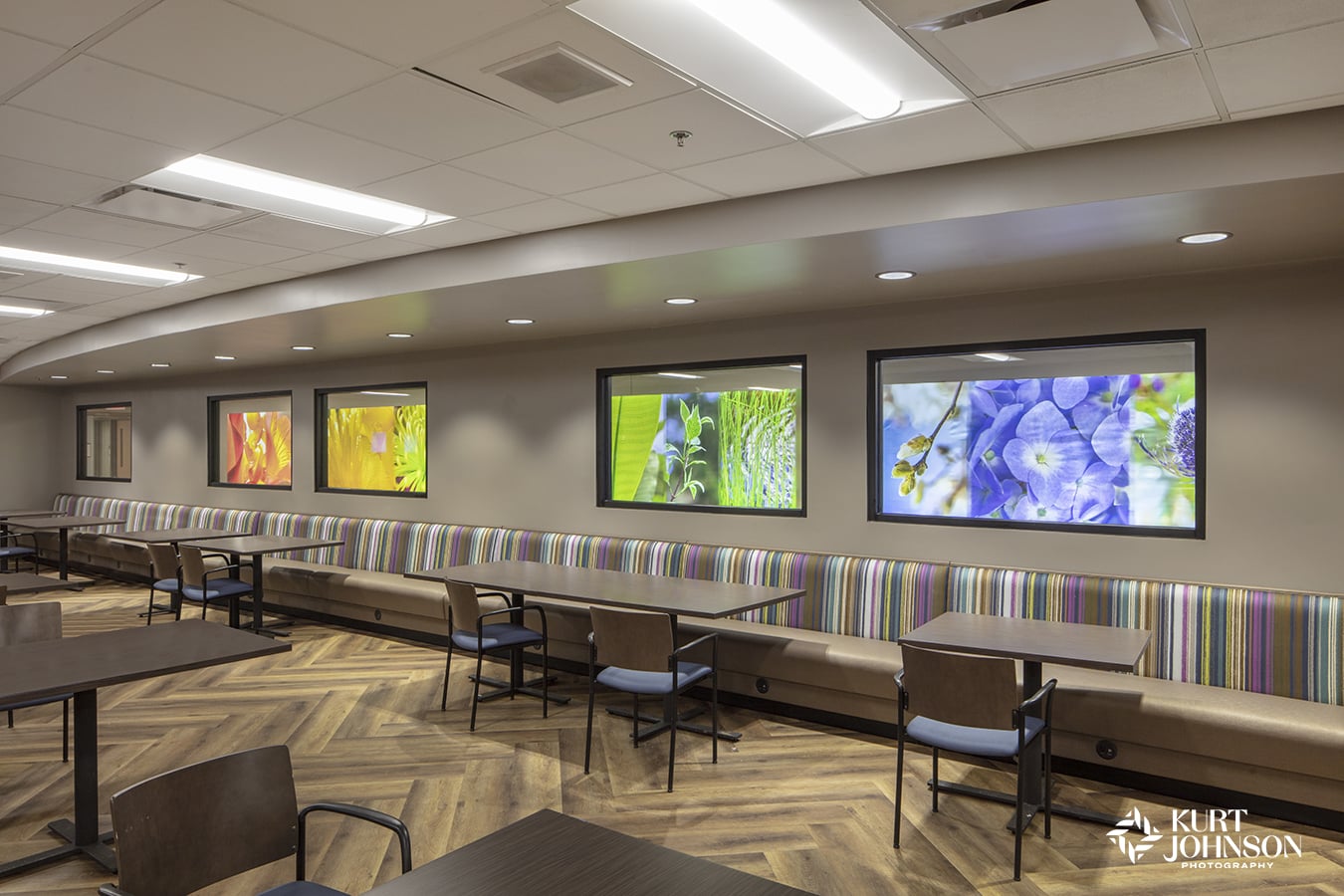 3 separate REXframes were mounted side-by-side for a seamless display of invigorating light and color. And according to McCormick, using local nature imagery made the impact of the installation even more meaningful since "the Immanuel culture is one of family and community."
She went on to say the feedback she's heard since KJP's images were installed on Renze's REXframe have been overwhelmingly positive, "I have received nothing but great compliments on the work. It makes me feel good every time I walk down the hallway." This stunning REXframe displaying Kurt's healing nature photography was the perfect solution.
Our partnership with Renze continues to grow as many healthcare facilities look for fresh and bold solutions incorporating biophilic design elements into their environments.  Magers put it best when she explained, "KJP dreams big yet they listen to our suggestions to value engineer their projects to help their customers bring new ideas to life yet always being mindful of the budget."    
And while every healthcare project is different, there is always a healing, nature-based solution within reach.